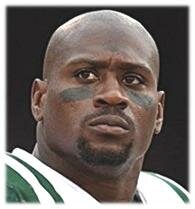 There may have been a half-day or so over the holiday weekend where Thomas Jones put up his feet and relaxed.
OK, there was like a 10 percent chance that he skipped a day in the weight room while enjoying the festivities of Independence Day.
Would we expect anything different from a man who at the age of six asked his parents for a set of weights as a Christmas gift. Legend has it that Thomas Jones Sr. thought his son was too young for barbells, so he told him to do pushups instead. Before long, 200 pushups became part of his bed time routine and stayed that way for years.
"I'm a workout warrior," Jones said. "I love working out. I love taking care of my body. I'm very in tune with my body and how I feel."
If you want to know how a 30-plus running back can defy the odds and still be a productive offensive weapon, then welcome to Thomas Jones and his work ethic. In his short time with the Chiefs, he's shown his new teammates, the coaches and Kansas City fans what it means to be a dedicated professional. You don't get biceps like his with a minimum amount of weight on the bar.
"Never," is what G Brian Waters said when he was asked if he'd ever played with a running back who had bigger biceps than his own. Let's remember that Waters is a good 100 pounds heavier than Jones.
But when it comes to slinging the iron around, nobody in the Chiefs locker room tops Jones. That's especially true for the six-week, so-called vacation that the players are working through since the end of the team's off-season program.  
"I try my best to rest as much as possible right after the season," Jones said. "Once I start up again, I go hard. I don't really stop during the break before training camp. I continue to work hard up until camp. That mentally prepares me for camp and two-a-days and the whole process of getting the pads back on."
Vacation is not something that was in the plans for Jones. Again, maybe a day or two here and there for frolic, but between Florida, Kansas City and back home in Big Stone Gap, Virginia, he was going to use the time to get in even more workouts, on average nine a week.
"I take pride in it and like to take care of myself," Jones said in explanation. "It has made me so much better."
There's no arguing with the results. Jones and Steven Jackson of the Rams are the only backs in the league that have run for 1,000 yards or more for the past five seasons. At the age of 31 last year, Jones had the best season of his career, when he ran for 1,402 yards with the Jets.
As his childhood wish for Christmas showed, Jones has always been interested in fitness. But it wasn't until six years ago that he took it to another level. After four seasons in the league with Arizona and Tampa Bay, he'd not reached his potential. An unrestricted free agent after the 2003 season, he went to work with a personal trainer, Ian Danney in Arizona.
A former Canadian Olympic bobsled participate, Danney was working with a small group of NFL players in Arizona. His specialty is speed training. In a short period of time, Jones saw his body fat drop to five percent, while he gained weight and got faster and quicker.
That sparked Jones in his first season with Chicago and he's been a very productive NFL back ever since.
"When you are strong and have a lot of muscle, it makes you solid," said Jones. "When a guy hits you, he feels it a little more that way, and you feel it a little less.
"My body is my protection. The harder I am the more solid I am, the more hits I can take."
In recent seasons, Jones has trained at the Bommarito Performance Systems in Miami, where he's been joined by a host of top level NFL running backs like Maurice Jones-Drew, Fred Taylor and Frank Gore.
The sweat and pain of June and July is the extra edge that Jones wants to build for himself. He's not just out there trying to maintain what he got done in the Chiefs strength and conditioning program that started at the end of March.
He's using this time to take his strength and aerobic capacity to an even higher level, one that will make the months of November and December productive after the hits and pain of September and October.
"You can't bank it like you could with money and a savings account," said Jones. "But what you can do is push and show yourself what's possible. Then, it's just a matter of dialing up the memories and the work.
"That's why there are important things you get done mentally as well as physically in these sessions. It's a grind; there are times when you don't want to do it. But you've got to have the mental toughness to fight through and get things done. That's the same thing you've got to have in a game, in the fourth quarter, when you are tried and worn out."
Those long hours at this time of the year are never far from Jones mind in the fall.
"When I'm running through a hole and it's me and one other guy who is trying to tackle me, I know when I'm moving towards him that I put in more time than he did," said Jones. "I lifted more weights, I did more cardio, I worked harder and I'm going to win this battle."
NFL PERSONNEL & NEWS FILE FOR TUESDAY, JULY 6

BRONCOS – released WR Landis Williams and WR Dicky Lyons – both were undrafted rookies, Williams from Maine, Lyons from Kentucky.
TITANS – discussions between the team and disgruntled RB Chris Johnson have apparently taken a positive turn and there's now a chance the 2,000-yard back could join the team for the start of training camp. Essentially, Johnson is due his base salary of $550,000 for the 2010 season. The Titans are not of a mind to do a new long-term deal, but in the short term reportedly they are willing to take a $2.5 million roster bonus set for 2012 and pay it this season. That would bring Johnson just over $3 million.