As the 2010 NFL Draft draws closer, we take a trip around the AFC West to see what the decision makers on the three other division teams are talking about.
Enjoy the comments of Denver's Josh McDaniels, who was actually talked about some of the draftable players.
JOSH MCDANIELS/HEAD COACH DENVER BRONCOS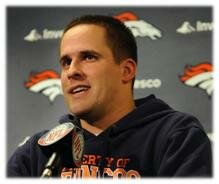 What are your thoughts on the quality of this year's draft class?

"We think it's a very deep draft and we are excited about where we're at in terms of having multiple selections in the second round and we feel like we're in a good spot in the first round. There has already been some activity and some calls back-and-forth in terms of moving up or down. No telling exactly what will happen at this point, but there's definitely going to be some interest. We're going to be interested in those types of things as well."
How much trade action do you think there will be this year?

"There are quite a few teams — we're one of them, obviously — that have multiple second-round selections. So it will be interesting to see what happens and how flexible other people want to be, moving down or moving up. We're one of the teams that obviously has some flexibility to try to move up if we choose.
"I think we'll be flexible and we'll listen, but there are a lot of other teams that are still trying to put together their plans and priorities. So once we see how that is all going to unfold we'll make that decision. But I think the odds would be in favor of us moving backwards probably because the most opportunity lies there."

What do you see as the positions of need for your team?

"Obviously I think there's a need and a desire for us to add competition at the center position, that's an obvious one. We just lost a receiver (Brandon Marshall) that made a lot of plays for us last year. We have a lot of quality players back at that position this year but that doesn't necessarily mean that we're going to go out and draft (a receiver). We'd like to add some depth in terms of the front seven, linebackers in particular. We did a lot with the front three in free agency. Like I said, I think it's a deep draft, I think everyone really feels that way and I think you'll see a lot of teams hold their water and take a good player. Wherever you're at, you're going to get a good player in this draft in the first couple of rounds. You may be getting third-round, fourth-round players that come in and compete pretty quickly."
Thoughts on Alabama LB Rolando McClain:

"I'm not sure I've met a young man as intelligent relative to the game of football than Rolando McClain. He's obviously been well coached. But even if you're coached well, it takes another side to get to where he's at. He's obviously done a lot of listening, studying and understands the game at a level where most kids that come in as rookies will never be at. That's a credit to the work he's done at Alabama and the way he's been coached. He has a very bright future ahead of him."
On Oklahoma State WR Dez Bryant:

"I think you need to be careful confusing character issues with some people who have made some mistakes. This guy has never been arrested, never had a drinking issue, never done anything to put himself in that position. I think he's made a few mistakes that he wishes he hadn't made but I think there's a difference. You can say, well, this guy has made a couple mistakes that have been really glorified, and make a big deal of it and all of a sudden turn him into a really bad kid. That's the farthest thing from the truth relative to (Bryant). I'll tell you this, he's on our board. There's no question. I know there are other teams that may have taken him off their board, but he is not one of the players who is off our board."
On Tennessee DL Dan Williams:

"The thing we think about Dan is that he's got what we would call a play radius that's a little different than some (nose tackles), meaning he can make tackles over there on the sideline. We've kind of gone back and forth on it — (he) could even play (defensive) end because he's that athletic. We've done our work and our research on him, and he's a player that I think is going to go probably somewhere right around where we pick, there's no question about it. But we do have an interest in Dan Williams. He is a good player, he is a good kid and we think that that would be a possibility."
On Missouri LB Sean Weatherspoon:
"Sean Weatherspoon was very impressive. He's a bright kid. Every way — name it and he was impressive. His knowledge of his system, his ability to retain our system, his interaction with our coaches. That was great."
On Florida QB Tim Tebow:
"He was extremely impressive. You look at the tape, and the only thing that you can say about the tape that isn't flattering or very impressive is that he dips the ball a hair. He has already fixed that. I think that's something that you can fix through repetition. He's already done it; he proved that at his pro day. Everything else that you're watching on film is accurate, tough, smart, good leader, versatile, can move out of the pocket, can move in the pocket, can run with the ball. This guy scored. What is he, the third-leading passer all-time and the leading scorer in rushing touchdowns over Herschel (Walker). There are so many things that you can say about the kid. Then, to top that all off, he's every bit the person that you read about before you got the chance to meet him. He's very enthusiastic, wants to work hard, smart, bright, one of the smarter players I've ever been around in terms of coming out of college."
A.J. SMITH/GENERAL MANAGER SAN DIEGO CHARGERS

When you grade a player, which of these qualities are most important to you: athletic ability or on-field production and why?

"It's a combination of a lot of things. It's what we call 'measurables.' You always hear about height, weight and speed for certain positions. If you're a linebacker, hypothetically speaking, you have to be 6-4, 250 pounds, run a 4.65-second 40-yard dash and have a 40-inch vertical jump. You typically hear all these 'measurables' come out of the NFL Combine.
"What we're looking for, bottom line, is a football player. How does he play the game? How productive is he? How consistent is he? Was he a one-year guy? Did he play at a high level in college for two or three years? How about his high school; which we do a little checking, not evaluation. How were they in high school as players before they got to college? You have a huge body of work to evaluate.
"The odds are that they're probably going to continue that at the NFL level if they have that work habit and if they're grounded, solid human beings with great character and want to be pro football players. Those are intangibles. We lean pretty heavily on that because when players have those qualities and they get an opportunity to be a pro – in this case, a Charger, they are going to take full advantage of that and be the best pro they can be. That's the makeup of our team (now), and I think that's part of the reason why we've had some success here in San Diego."
You're known to prefer great football players over great athletes. Tell us why that is?

"It's a philosophy I've had for a long time; since I was in the USFL with George Allen, Marv Levy, Bill Polian, John Butler and others engrained that in me. I believe it even more now because we've incorporated that philosophy since I was hired by Dean Spanos in 2003, and we are moving in the right direction. We have a good football team. I am reinforced more not to abandon that philosophy. I believe it in as much now as I did years ago."
Of all of the criteria you have to evaluate about each player, how important is a player's persona and character off the field?

"It's very important. They have to have great character. Not only is it important to get very good football players, but very productive players. They have to have great work ethic, love the game and be good people. It's a combination that comes together. We tend to really stick with that for the most part. I think we do a good job of it. If you do all the right things to remain a Charger, we're going to hang with you. And if not, good luck to you."
TOM CABLE/HEAD COACH OAKLAND RAIDERS

How would you classify needs heading into this draft?

"We have some line of scrimmage issues on both sides of the ball. You know, I think those are some areas of concern. Making sure we have the right people at linebacker, make sure we have the right people in the secondary."
Do you see much value in the Wonderlic test scores?

"You know, I think first of all, when we go to the Combine we actually spend time with these guys. We interview them ourselves. We talk ball with them. We talk football. We get a feel for who they are, how they speak, how they can [be taught], actually put them on a board, those kinds of things. We spend a lot of time interviewing these kids. That's more important."
With the eighth pick can you take a right tackle or does it have to be a guy you see as a left tackle?

"Well, I think if you're going to take him, he's going to come in and start for you. Whether on the right or left that's not your issue. For example, there are some guys in there that are probably better rights than they are lefts and vice versa. So it just depends on who's available to you at that pick."
In the end what will be a successful draft for you and your coaching staff?

"We have eight picks as of right now; if we can get eight guys that can make this football team, then that was a successful draft. As an organization, the most important thing to us is that we draft specifically where we feel a need for our football team. That's a good thing, before it was just get the best player you thought available at that spot. Now we have some real issues that I think we need to address, not so widespread on our football team."
When you're evaluating guys, is production in college the biggest thing you look at, or projecting how they are going to be?

"You have to do a little bit of both; first of all they have to be productive. You have to be able to turn on the film and see what they're capable of and see them play against certain competition, maybe in big games, championship games, big bowl games. But then there's also a side of it, you have to be realistic, you have to say; where can this guy go from here? Can he still climb? Is there still a lot left to this guy, or is he pretty much topped out on who and what he is? So, you have to be very smart, very educated I think to make that projection, because if they have leveled off, they are what they are and they're not going to get any better. In this league they have to get better."