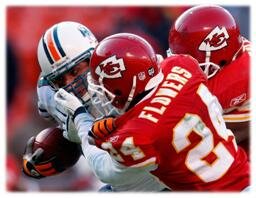 I appreciate all the feedback that's come down the line that last few days on the series of personnel evaluations of the Chiefs. Some posters agreed with my assessments, others thought I was too tough, or not tough enough.
First of all, remember these are the thoughts of one person and I don't have any say or power in the ultimate decisions on who stays, who goes, who plays and who does not. Again, these evaluations are based on what I've seen, not only in the recent off-season, but last season and years before that. I'm going to trust my eyes more than anything else.
I know the arrows up and down caused a bit of confusion for some readers. Generally, a young player was going to have an up arrow, because he should be an ascending player. Any player 30 or older was more than likely going to have a down arrow, as most of his career was behind him. There were exceptions to that, as there always will be when talking about 81 players. Those differences generally were based on what I saw as the potential value of the player's contribution to the 2010 Chiefs.
Some questioned rating the rookies and putting some of them in slots ahead of players with NFL experience. That's a legitimate gripe and one that I wrestled with as well. There wasn't enough football in the off-season program to accurately judge a rookie and his skills against the veteran players. Once again, my ranking had more to do with where the player fit in the '10 picture and his chances of making an immediate contribution.  
As I walked my way through evaluating this roster it reaffirmed previous considerations on what Scott Pioli and Todd Haley have done since taking over the club. In the secondary, the Chiefs are a much better group than they were in 2008. Despite making a mistake with the release of Bernard Pollard and getting nothing in return, they have what appear to be three solid starters in Brandon Flowers, Brandon Carr and Eric Berry and Javier Arenas appears to have smoothly stepped into the nickel role.
The rest of the defense hasn't taken a step forward. The defense line remains a question mark. Glenn Dorsey and Wallace Gilberry appear solid, otherwise things are very shaky. At linebacker there are various parts and with some sort of laboratory work it could be a good group. You know like combine Andy Studebaker's body with Mike Vrabel's brain. On paper – and that's where we are playing this game right now – there's not been an infusion of talent.
Offensively, bits and pieces have been added by Pioli/Haley that could make for a productive attack in the coming season. But in a bigger picture of down the road, there are not enough young, talented offensive players in the pipeline. Last year's draft class on the offensive side was a major disappointment, with no contributions coming from Colin Brown, Quinten Lawrence, Javarris Williams and Jake O'Connell. Any sort of performance flash would have been a chip in the pile of any of those four players, but they had none in the '09 season. It's one thing to struggle as a rookie. It's another to be shutout completely.
I gave an up arrow to a total of 18 players, but only three were on offense: RB Jamaal Charles, LT Branden Albert and QB Matt Cassel. Add draft choice WR/RB Dexter McCluster, C/G Jon Asamoah and TE Tony Moeaki and that's six. That's not enough for the future.
It's evidence of how tough it is to turnaround a roster when both sides of the football have talent pipelines that are producing at a trickle. Without a major step forward in their second season by the '09 draft class, it will make the process of turning the Chiefs into a competitive team an even longer and tougher assignment.
It's been that way with the Chiefs for years. In the 1990s, the team had one of the NFL's best defenses (average finish at No. 10 in yards allowed) and an offense that wasn't productive enough to score points in the post-season (average finish at No. 15 in yards gained.) Dick Vermeil and Al Saunders brought in the offense scheme that set so many records in the 2000s (average finish at No. 2 in yards gained), the defense lagged behind and was unable to help (average finish at No. 28 in yards allowed.)
The common denominator those teams shared was they won more than they lost; sometimes they won a lot more. Even though they were out of balance when it came to the influence of offense or defense, the strength of one-side carried the team.
Over the last three years, the Chiefs have an average ranking of No. 27 in yards gained and No. 25 in yards allowed. It's easy to understand the 10-38 record with offense-defense numbers like that. No aspect of the team was good enough to carry the day.
As they begin the 2010 season, what's different from the offensive and defensive rosters over the previous three years that indicates those rankings will improve? Not much. Growth of existing players is where the difference must come – improvement from within. There haven't been enough talented players added to really change things. On defense there is Berry. On offense there is McCluster, Moeaki and veteran G Ryan Lilja.
The head coach is constantly talking about the "process" the franchise is going through. It's another way to say rebuilding and there's nothing pretty about a rebuild. Anyone who has ever been part of a home or business that went through a remodeling project knows how messy things become. It seldom comes together easily or on schedule. It's a "process" that tests the patience of everyone involved.
Right now, with two drafts and two cycles of free agency behind them, the Pioli/Haley Chiefs should have a stronger roster than what we have seen. That can change if the '09 draft class comes through in its second season.
That's why it's easy to highlight the players in the spotlight for the 2010 season. It's Tyson Jackson, Alex Magee, Donald Washington, Colin Brown, Quinten Lawrence, Javarris Williams and Jake O'Connell. We can add undrafted free agents from last year like Jovan Belcher, Pierre Walters, Reshard Langford, Jackie Bates, Bobby Greenwood and Dion Gales to that group. They all have a chance to make the 53-man roster.
Belcher was the only player in that group that exceeded expectations in the '09 season. The rookie star last year was K Ryan Succop. But a class of rookies will never be considered successful with just a kicker getting it done.
The Hunt Family wants to build its team through the Draft. That only works if the annual selection meeting ALWAYS produces talent. There can be no exceptions, no bad drafts, not busts with the early and supposedly more talented draft choices. If the production and performance level of the '09 class doesn't take a significant jump, it's going to seriously set back the "process".
A GREAT FOURTH OF JULY WEEKEND STORY

It was halfway around the world where the story came down that was a fantastic way to highlight the celebration as our birth as a nation.
Minnesota Vikings head coach Brad Childress is one of the four NFL head coaches that are touring military installations in the last two weeks. Childress, along with Andy Reid of the Eagles, John Fox of the Panthers and Marvin Lewis of the Bengals have been in Germany and Afghanistan meeting and greeting the troops. That's Reid and Childress above visiting with a wounded warrior in Germany.
On Friday, they were at Bagram Air Base in Afghanistan, just north of Kabul. Childress was unloading flak jackets when he stopped to talk with a group of Marines that was walking past.
Here's how Childress told the story to the Minneapolis Star-Tribune:
"How are you doing? I'm Brad Childress, I appreciate everything," he told the young man. Childress was looking the Marine in the eye, their hands were clasped and after about three seconds the Vikings coach realized this was no stranger. It was his son, Andrew, who had been brought to Bagram without Childress' knowledge.
"Honest to God, I had him by the hand and I didn't realize who I was looking at until …" said Childress, his voice trailing off as he retold the story during a phone conversation Friday. "I couldn't believe it. I had no idea that was going to happen. We were in one spot and he's in another. Somehow they pulled it off."
The coach didn't recognize his son because of a new mustache and weight loss. Childress thought it would be December before he saw Andrew again.
"It was emotional as hell," Childress said. "It was just a great feeling holding him in my arms."
Happy Fourth of July!
NFL PERSONNEL & NEWS FILE FOR JULY 5

JURISPRUDENCE – former Oakland QB JaMarcus Russell (right) was arrested on Monday at his home in Mobile, Alabama for possession of a controlled substance – codeine syrup. The arrest came out of an undercover investigation After being booked at the Mobile Metro Jail, he was released on a $2,500 bond. He's scheduled to appear in court on July 20. A bond hearing is set for Wednesday. Russell was released by the Raiders in May and had not been heard from since, at least until this weekend. One of the popular ways people abuse liquid codeine is to mix it with soft drinks or hard liquor, providing an extra kick. Remember, the Chargers had a defensive back Terrence Kiel who was arrested by the DEA for shipping codeine cough syrup across state lines. He eventually pleaded down to a misdemeanor. The Chargers released him almost as soon as he was charged.