REPORT CARD: Chiefs vs. Bills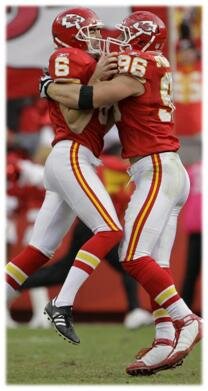 From Arrowhead Stadium

RUSHING OFFENSE: A+ – How can you not give the highest grade possible to a rushing attack that continues to roar with 274 yards and now three straight games of over 200 yards? The Chiefs are now averaging 190 rushing yards per game and are on pace to break a franchise record for rushing yards. Jamaal Charles was at his best in this game, as he ran for 177 on 22 carries, or eight yards per run. The only thing the Chiefs didn't get done was score on the ground. Oh well …
PASSING OFFENSE: C – There was nothing going on here all day as the Chiefs kept the ball on the ground and calling just 31 passing plays – QB Matt Cassel threw 26 passes, he was sacked three times and he ran the ball twice. Overall, the wide receivers were not a factor in this game, although Jamaal Charles caught four passes for 61 yards, some of those when he lined up outside. The Chiefs went with that because they were without rookie WR Dexter McCluster due to injury. WR Dwayne Bowe had only three catches for 16 yards. Chris Chambers did not catch a pass. Three sacks was as many as they gave up in the previous three games combined.
RUSH DEFENSE: B – The Bills finished with 137 yards on the ground, but that was only because of the extra period. The Chiefs did not give up a run of more than 14 yards and Fred Jackson was the leading rusher for Buffalo with 64 yards on 20 carries, a 3.2-yard average. They got hurt by an end-around where WR Roscoe Parrish went for 13 yards and QB Ryan Fitzpatrick ran for 14 yards.
PASS DEFENSE: C – The Chiefs really smacked Fitzpatrick around for three quarters and then in the fourth quarter they allowed him to catch fire and get the Bills back in the game. They had three sacks, half of those from OLB Tamba Hali who was a problem all day for the Buffalo protection. They also got an interception by SS Eric Berry when a pass slipped out of Fitzpatrick's hand and flew high. They really did a good job of handling veteran WR Lee Evans, who after three quarters had only two catches for 17 yards.
SPECIAL TEAMS: C – The kicking game finally won it for the Chiefs with Ryan Succop's 35-yard field goal. But his earlier miss hurt and again they got nothing going in the return game. Javier Arenas averaged just 23 yards on kickoff returns and nine yards on punt returns. Coverage units were good, but Dustin Colquitt's net punting average was an ugly 29.7 yards, due to a 33-yard return and two touchbacks.

COACHING: D – This penchant of Todd Haley to bypass what should be fairly obvious field goals in attempts to move the chains on fourth down almost cost him this game. The situation near the end of the game when Cassel leaped over the middle and apparently got the first down, but Haley called timeout and decided to punt. There seemed some confusion there. Some of the offensive playing calling was confusing as well. The running game was working, rely on it, instead of throwing so many passes short on third downs.