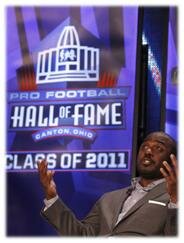 From Dallas, Texas

It was seven hours in a hotel meeting room where the temperature was too hot and the proceedings were continually interrupted by the hotel fire alarm.
This meeting of the Pro Football Hall of Fame Board of Selectors had its fits and starts and there was enough disagreement and debate that it helped push the thermostat up a few degrees higher than its already hot setting.
The job that was presented to the group of 42 men and two women was simple to describe, not so easy in follow through – discuss the qualities of 17 different football players and decide who were the best and deserved entrance to the hall. As many as seven nominees could be inducted, and at least four had to be elected.
And for seven hours-plus that's what went down. I've been part of the board of selectors since the voting session for the Class of 1996 and the duty does not get any easier each year. Let me assure you that every person chosen to vote understands the importance of their duties.
When I first joined the group, there were several veteran voters who would arrive Saturday morning barely awake and dealing with a raging hangover from the Friday night party. That's not the case anymore. The group arrives with their wits about them and their research done.
This year's meeting went long for three reasons – Ed Sabol, Deion Sanders and in the modern game, what constitutes a Hall of Fame receiver.
Let me go from last to first and begin with the receivers. There were three men under discussion – Tim Brown, Cris Carter and Andre Reed. None of the three earned a spot with the Class of 2011. In fact, only one of the three – Reed – was able to survive the first round of voting when the group of 15 was reduced to 10 names.
Consider that among those three receivers, they had played at least 16 seasons, had caught at least 951 passes for at least 13,198 yards and 87 touchdown catches. Those minimums far exceed the average numbers of those receivers who are already in the Hall of Fame.
But in this age where the passing game has come to dominate the offensive approach, it's hard to put your arms around what defines greatness at the position. The numbers are skewed and they are hard to separate from each other.
Brown, Carter and Reed are all deserving, maybe none more so than Carter with 130 career TD catches. But Carter, like Brown and Reed, does not wear a championship ring and it's hard to come up with a signature catch in the careers of any of the three.
Essentially, what happened on this weekend was the three receivers divided the pie and that didn't leave enough votes for any of the three to advance.
The conversation involving Sanders and his career lasted 33 minutes, or about 30 minutes longer than was necessary. Without a doubt, Sanders left something to be desired when it came to willingness to come up and make a tackle. But as suspect as he was in that area, Sanders was outstanding in coverage and returns, certainly the best of his era and maybe the best of all time. There was little doubt about his election.
As for Sabol, the group discussion on the founder of NFL Films went on for 40 minutes total. There was no real argument against Sabol personally. The two negatives that came from some of the voters was (1.) his election would take a spot away from a deserving player, and isn't the Hall of Fame about players and contributions on the field? And (2.) in his area of expertise, he was essentially a member of the media and shouldn't be considered for the Hall as a contributor.
The voting proved those arguments carried little weight with the voters. There's no doubt Sabol's presence took a spot away from a player, in this case it very well could have been former Chiefs OT Willie Roaf.
At the end of the vote from 15 to 10, these players were eliminated: RB Jerome Bettis, WR Tim Brown, WR Cris Carter, DE Chris Doleman and DE/LB Charles Haley.
In the vote that took the group from 10 to five, these players were eliminated: C Dermontti Dawson, DT Cortez Kennedy, RB Curtis Martin, WR Andre Reed and Roaf.
That left the final five, with DE Richard Dent, RB Marshall Faulk, Sabol, Sanders and TE Shannon Sharpe. With that group, it's a simple yes or no vote on each candidate. For induction, they had to receive 36 yes votes from the 44 selectors voting.
Vote totals are not released at any point in the process by the Hall of Fame, which is something I do not agree with; there should be as much clarity in the process as possible.
Here's how my ballot looked in the three votes:
From 15 to 10: I did not vote for Bettis, Brown, Carter, Haley or Kennedy. All were eliminated but Kennedy. The only candidate I voted for who did not advance was Doleman.
From 10 to five: I did not vote for Dawson, Dent, Martin, Reed and Kennedy. All were eliminated except Dent; I voted for Roaf, who did not advance.
I voted yes on all five finalists. I also voted yes on both senior candidates.
As always, the outcome of the voting has caused consternation with some, who can't believe (insert name) isn't part of the Hall of Fame in 2011 or that (insert another name) was voted in before (insert name.)
The 10 players that didn't make the Hall this year will all eventually be voted in. Patience is the No. 1 virtue of players and fans. Once a man reaches that point where he's inducted, it matters not whether he was a first ballot choice, or waited 10 years.
This year, Faulk and Sanders were elected in their first year of eligibility. Sharpe waited three years and Dent had been eligible for nine years. As the senior candidates, LB Chris Hanburger was eligible for 28 years and Richter for 46 years.