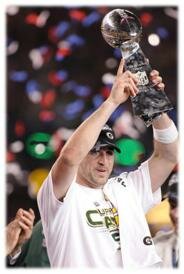 From Arlington, Texas

It was an exciting night and that always provides plenty to speak about, especially when the excitement comes within the confines of a Super Bowl.
Such is the case coming out of Cowboys Stadium Sunday night after the Green Bay Packers victory over the Pittsburgh Steelers in Super Bowl 45. Here are some of the best comments that we've been able to kull from millions of words.
PACKERS QB AARON RODGERS (left) on being named MVP: "It's a special honor to be one of the leaders of this football team. I've said it once and I'll say it again: no one person has ever won a game by themselves. This is a team effort and a great group of men and I'm just blessed to be one of the leaders on this team. Individually, it's the top of the mountain in my sport my profession. It's what you dream about as a kid and think about in high school, junior college, D-I: getting this opportunity and what would you do? I'm fortunate and blessed to play for a team that believes in us."
STEELERS S RYAN CLARK on Pittsburgh defense: "We didn't make many mental errors defensively. They just made some plays. You think about the third and 10 in the fourth quarter, another pass to Jennings down the middle. I think he did a good job of reading us and just going out and doing what he had to do. It wasn't about mistakes, it wasn't about rust. They played better than we did. I think both offenses moved the ball very effectively, especially Green Bay. Aaron Rodgers threw some passes tonight that I think other quarterbacks don't make."  
PACKERS WR JORDY NELSON on Packers receivers: "It is all about opportunity. That is what we have been saying within our receiving core. We feel that we can go up against any secondary there is. We didn't mean any disrespect to the Pittsburgh Steelers. We feel confident that we can do what we do. It is all about opportunity. You never know who is going to make the big play or have a big game. Opportunities make the game."
STEELERS S TROY POLAMALU on Packers offense: "When the offense spread out there, the best thing you can do as a safety is try to take the top off of the coverage and just not allow big plays. Hopefully you can get in a position where there could be an overthrow. So we tried to do some creative things, I did personally, and it didn't work out for us."
PACKERS CB CHARLES WOODSON on Green Bay dealing with injuries: "When somebody goes down, you know you still have to play football. It doesn't matter who it is or at what point in the season it is. You still have to go out there and perform. That's the kind of example you try to show to your teammates and they follow. They followed all the way to the Super Bowl with a victory."
STEELERS WR HINES WARD on dealing with the loss: "On the losing side, you're always going to say 'What if?' You always look at things in perspective and say, 'Well, what if we didn't turn the ball over?' But we turned the ball over three times against the Packers. Not too many teams are going to beat the Packers like that. That's really the difference in the game. You look at all the plays, we made plays, they made plays. Their defense was solid, our defense was solid. Our offensive line was phenomenal. It came down to the turnovers."
PACKERS C SCOTT WELLS on offensive game plan: "I know when we put the game plan in, we really liked our matchups on the edge with their secondary and our receivers. We know the challenge of having to pass protect against an outstanding pass and rush defense. We needed to run enough to really respect that part of our offense."
NELSON on dreaming big after being a walk-on safety at K-State: "You always dream big. I guarantee there are kids all over the country playing in the back yard. It is such a long shot, I couldn't believe it. I just take it year-by-year, and done what the coaches ask. It means a lot to a lot of people and it's great to be here. "
WOODSON on being fitted for Super Bowl rings the day before the game: "We are a confident team. We knew we had a good team. We knew if we went out and played the way we are capable of playing, we don't feel like anybody can beat us. That was just a vote of confidence for us: get fitted for your ring. I don't know when we'll get them, but it'll fit."
POLAMALU on dealing with the loss: "I've never had a defeat like this in our life but I think this is a great spiritual lesson. You know when you kind of put your whole life into something, this is not a game to us; it's a lifestyle. It's a big part of our life and all of us are going to be challenged, the way that we force a lot of other people to be challenged by winning two previous Super Bowls. It's just important for us to rebound, take this loss. It's incredibly humbling. God willing in some way we'll be benefitted by this."