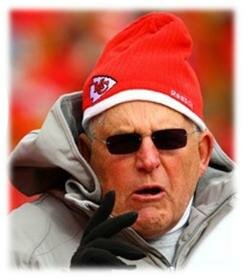 I'm going to give Todd Haley the benefit of the doubt on his decision to promote line coach Bill Muir to Chiefs offensive coordinator. Hasn't he earned that?
In my limited contact with Haley – no one on the outside gets real close to the coach – there is no doubt he has a vision for the Chiefs. It's a winning vision. He has a vision for what his coaching staff should be. He has a vision for how he should operate as head coach.
Haley is a smart guy. He knows it doesn't matter who calls the plays. It works both ways. The Packers' Mike McCarthy and Tampa's Jon Gruden reached the Super Bowl calling the plays. The Steelers' Mike Tomlin and Patriots' Bill Belichick have rings without play-calling roles.
Haley knows he was a better head coach in 2010 than he was in 2009. He had two experienced coordinators he could turn the A-B-Cs of game-planning while he monitored the big picture. Who's to say that is going to change?  
Muir, while not as big a name as Charlie Weis, is an experienced offensive coordinator on a Super Bowl winning team. And who can argue with Haley's decision to maintain continuity on an offense that was pretty darn effective this season while leading the league in rushing (a Muir strength). No reason to think that strategy will change no matter who is calling the plays.
There seem to be two big organizational challenges for the Chiefs as they continue to move forward. Haley can't allow himself to become one dimensional and focused solely on offense. And he must find a quarterbacks coach who can help Matt Cassel continue to progress as a quarterback.
As for any other second-guessing, let's look at decisions people second-guessed at the time they happened and what the outcome was.
● There was the one about how Haley was stupid because he fired his offensive coordinator the week before the season began in 2009. Chan Gailey was not Haley's choice as coordinator, but by the time Haley was hired he had limited choices. And Gailey, clearly, wasn't of the same mindset Haley was about offense. While the results weren't pretty in 2009, the foundation for what Haley expected of his offense was established and late-season improvement in 2009 helped set the stage for the success of 2010.
Would the Chiefs have been as far along if Gailey had remained the entire season and been fired afterward? I don't think so.
● There was the personnel decision to sign Thomas Jones and have him carry a big load of the rushing attack. Why get Jones when Jamaal Charles was so effective in 2009? Haley was widely criticized when Jones remained a key part of the attack after Charles got off to a sensational start in 2010.
Charles carried the ball 230 times, Jones 245. Imagine how fresh Charles would have been at the end of the year if he had all 475 carries on his shoulders. (Larry Johnson holds the NFL record with 416 carries in a single season, and he was never the same again.) Haley clearly knew how to get the best out of Charles AND keep him fresh despite the Monday morning quarterbacks who thought otherwise last September.
● There was the perception that Haley had to resort to Muir because he's too hard to work for – a "pain in the spandex" in the words of one pundit. No one knows how hard Haley is to work for except those on his staff. Public perception of Haley's demeanor comes from his sideline work, the well-documented shouting matches with Arizona quarterback Kurt Warner and the Cardinals receivers . . . his sometimes out-of-control rants at officials.
Was Bill Cowher easy to work for? Not if you make your judgment on his on-field, jaw-jutting, saliva-spewing posture. Or Jon Gruden? "Chucky" personified. Marty Schottenheimer had his sideline moments as well.
Perhaps the problem with a well-known coordinator from the outside or an up-and-comer from the outside is that they want to stamp their own mark on the Chiefs offense because that's one way to take the next step up the coaching ladder.
Every head coach in the NFL is demanding of his staff. Haley is no different. But don't judge his demeanor in a meeting room at 2:45 in the afternoon or 10:30 at night by what you see on the sidelines.
● There is also the perception by some that the Chiefs made the wrong choice in sticking with Cassel – particularly in light of his early-season performances.
Cassel was perfect for what the Chiefs needed in 2010. How he develops in the future will be a challenge for Haley. And while Haley needs to be instrumental in Cassel's development, it is imperative he find a quarterbacks coach who has mastered the mechanics to keep Cassel on the straight and narrow. Years ago I was amazed at how Joe Montana, near the end of his career, went through precise footwork drills every single day to maintain his form.
Are there questions about Haley's promotion of Muir to coordinator?
Absolutely.
Will the Chiefs offense take a step backward?
We'll find out. The win-loss record might indicate a backward step with next year's more difficult schedule. Ff the Chiefs are behind and Cassel has to rally the troops, he may have a higher interception ratio than this year. Would that be a step backward, who knows?
Should Haley be second-guessed about this decision?
I don't think he deserves that until it plays out.