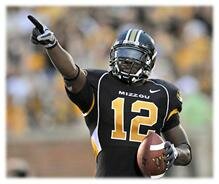 We always like to hear from our readers and sometimes they even send comments we think everyone would like to read. That's what Matt Verderame did and what follows are his thoughts on the player the Chiefs should grab with the fifth choice. If you can put together your thoughts as well as Matt, feel free to send them to . No guarantees of being published, but don't let that stop you should the muse tickle you.

Many draft experts talk about the value pick. Taking the best player available vs. a team's biggest need is commonly discussed with the NFL draft. Also, there's where a team picks (especially early on) dictates who they take. I think all that is overrated.
Every team in the NFL does scouting years in advance preparing for certain players in each draft. Most of the time these players coming out are assigned a value by men such as Mel Kiper Jr. and Todd McShay, and everyone goes along with it. With all due respect to these men who put months upon months of work into their craft, they aren't NFL scouts. They also don't follow every team as close as their respective fans because there just isn't enough time in the day, so they aren't as acutely aware of every team's needs.
Many people are saying the Chiefs will draft OT Bryan Bulaga or S Eric Berry because that's what "value" says. I propose a question: say after the Chiefs workout of LB Sean Weatherspoon they feel he is the best player in the draft at a position of need. If they feel he has more upside than say Rolando McClain, but McClain may be a safer, more fan friendly pick, what is Mr. Pioli to do?
In my opinion, you throw caution to the wind and take who you believe will be the more dynamic player in the NFL, regardless of "value". Kansas City doesn't need a LT; they already have one in Branden Albert. Also, while Berry is a tremendous talent, he's not the pick right now. Even with a great safety, if the Chiefs don't improve up front they're sunk.
If you look at this draft, the safety position runs very deep in talent, as does nose tackle. You can get a quality NT in the 2nd round in Torrell Troup, Cam Thomas, and possibly even Terrence Cody. However the LB position, especially elite linebackers, is very thin. After McClain, Brandon Spikes and perhaps Sean Lee are the next best inside linebackers. Outside linebacker is somewhat deeper with Sergio Kindle, Jerry Hughes, Daryl Washington, Navarro Bowman, and others. However, Sean Weatherspoon is unique, because some feel he can play both inside and outside.
I understand Weatherspoon is projected as a mid to late first-round pick. However, if Kansas City doesn't "reach" and pull the trigger in the 1st round, they have no chance to nab him without some serious wheeling and dealing, and probably a loss of picks.
Weatherspoon has been a leader wherever he has been, at Missouri and even at the Senior Bowl in Mobile. The Chiefs are in desperate need of someone to be emotional on defense, and be a leader in critical moments. It's not a safe pick in many people's eyes, and perhaps even a wild one.
In times like these however, you occasionally need to roll the dice. When I watched Weatherspoon play with his intensity, he reminded me of Ray Lewis. I'm not going to be a fool and say that Sean Weatherspoon will become Ray Lewis, but that is who comes to mind watching him. Rolando McClain reminds me of Lance Briggs. Briggs is no doubt a solid player, but he's someone who never will be the best player on a championship defense.
Drafting Weatherspoon is only a reach if he turns out to be worse than McClain and Bulaga, and have less of an impact than Berry. Otherwise, it's one of our best picks in a long, long time.