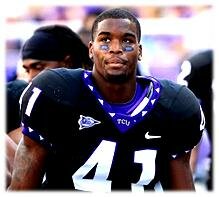 NAME – Daryl Washington
Position – Inside linebacker/Outside linebacker.
College – TCU.
Status – Senior.
Size/Weight – 6-1¾, 230 pounds.
Important numbers – 4.58 seconds in the 40-yard dash, 17 reps on bench press, 31-inch vertical jump, 9-foot 6-inch broad jump.
Age – 22 in October.
Honors – First-team All-Mountain West defense in '09.
College career – It took awhile for Washington to reach the starting defense with the Horned Frogs, but once he did, he had a major impact, with 106 total tackles and three INTs. Before that, Washington was a part-time player in the defense and a major player on the TCU special teams.
Stats of note – Played in 51 games/14 starts … 220 total tackles, with 20.5 tackles for loss and 5.5 sacks … 3 interceptions, 6 passes broken up, 2 forced fumbles, 1 recovered fumble … 4 blocked kicks, including 3 blocked punts in '07.
STRENGTHS – A very athletic player, with speed, quickness and agility … covers the field from sideline-to-sideline and has shown himself to be a sure tackler … very powerful hitter … has shown good coverage skills … big-time contributor on special teams.
WEAKNESSES – He does not have the type of bulk teams seek for inside linebackers … not an instinctive player and has just one year of starting … will sometimes overrun plays and over-reacts to play action … tends to try to run around blocks, rather than taking on the blocker.
THE RIGHT 53? – As a 17-year old, he was arrested on assault and robbery charges in what his high school coaches called a single incident of trouble. Since then, we are unaware of any incidents. Quite the opposite, he's been a determined, hard-worker and a leader.
What he said – (on his teenage arrest) "Stupid thing to do. You don't think about the consequences of your actions. I look at life from a different perspective now."

End game – Probably one of the best athletes in this year's draft, with his size and speed ratio and elite quickness and agility. He may need some time developing on the NFL level to a defensive scheme, but his upside is so high he figures to go no later than the second round.
ON THE CHIEFS LIST? – Depending on what they do in the first round, it would make sense that Washington is under consideration when they draft in the top half of the second round. Unless there is something the Chiefs discovered on the negative side, it's hard to imagine that he wouldn't be a consideration with those second round choices.