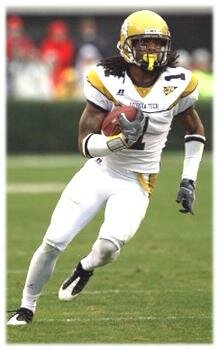 NAME – Morgan Burnett
Position – Free safety.
College – Georgia Tech.
Status – Junior
Size/Weight – 6-2, 209 pounds
Important numbers – 4.45 seconds in the 40-yard dash, 16 reps on bench press, 39.5-inch vertical jump, 11-foot broad jump.
Age – 21.
Honors – Second-team All-ACC defense '08 … All-Freshman team ACC '07.
College career – Coming out of high school in Georgia, Burnett did not wait to make his mark, as he had a sack and six tackles against Notre Dame in the '07 season opener. He remained very active throughout his career, averaging almost six tackles per game. His best season was in '08, his first as a starter with 93 total tackles and seven interceptions.
Stats of note – 40 games/28 starts … 235 total tackles, 9.5 tackles for loss, 1 sack … 14 INTs, 15 passes broken up, 1 forced fumble, 1 recovered fumble.
STRENGTHS – Burnett played the rover position at Tech and showed good skills in reacting to the ball, with good timing and anticipation … very good on the blitz and is tough against the run … athletic and fluid in his movements … he doesn't make many mistakes on the back line.
WEAKNESSES – Too often he goes for the knockout hit and has blown tackles … is inconsistent (especially in '09) in his production … must learn to get rid of blockers … sometimes takes bad angles to the ball when coming up to support, forcing too man arm tackles.
THE RIGHT 53? – There are no red flags on the character front. While he played only three seasons, he was available and productive in that time. There's nothing to hint at any diminishment to his athletic ability. His ability to play both free and strong safety makes him even more of a prospect for clubs looking for that type of versatility. It would have been smarter for him to remain at Tech for another year.
End game – Grouped among a second tier of safeties, Burnett may need a season or two in making the transition to the NFL. But there's no reason he shouldn't be an immediate contributor o n special teams.
ON THE CHIEFS LIST? – If they don't select one of the higher rated safeties, then Burnett should be on their radar come the second or third round. With his athletic ability, he should have a big upside.