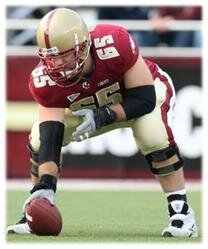 NAME – Matt Tennant
Position – Center/Guard.
College – Boston College.
Status – Red-shirt senior.
Size/Weight – 6-4 5/8, 300 pounds.
Important numbers – 5.15 seconds in 40-yard dash, 27 reps on bench press, 25-inch vertical jump, 8-foot 2-inch broad jump.
Age – 23.
Honors – Second-team All-ACC offense '09 … offensive co-captain '09 … finalist for '09 Rimington Trophy that goes to college football's best center … honorable mention All-ACC offense '08.
College career – Over the last three seasons, Tennant has been at the pivot in the B.C. offense and handling the duties quite well. He's had major elbow surgery after the '07 season, but was back and ready to play in '08, not missing a game.
Stats of note – 46 games/started last 41 games.
STRENGTHS – Tennant has good mobility and quickness … his athletic ability makes him a potential player at four of the five O-Line positions, with only LT out of his range … smart and clinical in the middle of the offense … has shown the nasty demeanor teams love in their blockers.
WEAKNESSES – Does have the poundage some teams look for at center … not especially powerful in his blocking and will have to get stronger … sometimes plays with his pads high and that gets him in trouble with shorter, more powerful defenders.
THE RIGHT 53? – Boston College has produced a lot of offensive linemen for the NFL in recent seasons, so teams feel like they know what they are getting with a B.C. blocker. Tennant has a high football IQ and he's started 41 straight games, so he's displayed his availability. His athletic skills could have him moving and playing guard or tackle. In fact, guard may be his best position.
What he said – "Since I was born in Kansas City, I have always dreamed of playing for the Chiefs, but playing for any team in the NFL would be an honor. This is something I have been working for my whole life, and I finally have reached the point where I feel like I have one foot in the door. Now I just have to step all the way through."

End game – It's a guarantee there's a lot of divided opinion on Tennant among NFL teams. Because of his long frame and lack of bulk, a number of teams will not rate him highly among the offensive line. Clubs looking for more athletic players along the line will rank him higher. He appears to be a bottom of the second, top of the third-round choice.
ON THE CHIEFS LIST? – While center does not seem a position of priority right now, Tennant must be viewed as more than a snapper. That versatility will make him very attractive to Pioli/Haley, as will his quickness of foot. It's not hard to believe he'll be part of the discussion in the third or fourth rounds.