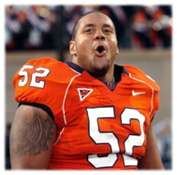 NAME – Jon Asamoah
Position – Guard.
College – Illinois.
Status – Senior
Size/Weight – 6-4 1/8, 307 pounds
Important numbers – 5.08 seconds in 40-yard dash, 22 reps on bench press, 27-inch vertical jump, 8-foot 11-inch broad jump.
Age – 22 in July
Honors – Second-team All-Big 10 offense '09 … First-team Academic All-America '09 … honorable mention All-Big 10 offensive '08.
College career – For the last three seasons, Asamoah has held down the right guard spot in the Illini offense and did it with honors
Stats of note –43 games/37 consecutive starts … allowed just two sacks in the past two seasons.
STRENGTHS – Very good pass blocker thanks to his size, long arms and big hands … big enough to move the pile on running plays … has the quickness to move and pull from either side … highly competitive and plays with a non-stop motor.
WEAKNESSES – While he has quick feet, sometimes his footwork gets him in trouble and he'll need work and coaching in that area … sometimes plays high and allows defensive players to get under his pads … stops initial pass rush, but frequently has trouble with second moves.
THE RIGHT 53? – Character might as well be Asamoah's middle name. He's highly intelligent, carrying a 3.7 GPA with a major in community health. Both his mother and father own Masters degrees. Available, as he's not had much in the way of injuries. Plays with a nasty demeanor, but is a great personality off the field.
What he said – "I want them to know my mentality and how focused I am on football. How much I care about what I'm doing, how competitive I am, how I hate when they tell me someone's better than I am. I'm always going to do my job and you're never going to have to worry about me."

End game – Considered by most the No. 1 guard prospect in this year's draft class, Asamoah will probably have to wait until early in the second round to hear his name called. Whoever does select him will get a solid player and citizen, with a solid upside.
ON THE CHIEFS LIST? – Asamoah would have to be a consideration with their two choices in the second round. His mobility is fits with what Haley wants from his interior offensive line.