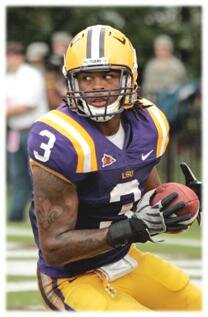 NAME – Chad Jones
Position – Strong safety.
College – LSU.
Status – Junior.
Size/Weight – 6-2, 221 pounds.
Important numbers – 4.57 seconds in 40-yard dash, 9 reps on bench press, 36-inch vertical jump, 9-foot 7-inch broad jump.
Age – 21, will turn 22 in early October.
Honors – Second-team All-SEC defense '09.
College career – In just three seasons with the Tigers, Jones became a major contributor on special teams and defense. In his freshman season, he had 23 special teams tackles and also returned punts and kickoffs. He got some starts at free safety in '09 and then moved into the starting lineup at strong safety in '09, with 74 total tackles, 3 interceptions and a 93-yard punt return for a TD.
Stats of note – 40 games/19 starts … 158 total tackles, 4.5 tackles for loss, 4 sacks … 5 INTs, 16 passes broken up … 3 forced fumbles … 31 punt returns for an average of 10.8 yards a return and a TD, 7 kick returns for an average of 17.1 yards.
STRENGTHS – Very good athlete who was part of LSU's championship baseball team … explosive first step and has good overall speed … he's very agile and is able to control his body … very good at making open field tackles … special teams contributor in many ways.
WEAKNESSES – Not a very instinctive player and sometimes allows his fundamentals to get away from him … susceptible to fakes and play action … aggressive in knocking free the ball, but had just five interceptions, as he dropped several opportunities … did not give full attention to football while at LSU.
THE RIGHT 53? – He's from LSU and that puts him on the Chiefs radar immediately. Huge upside at safety and with the proper coaching he could be a game changer. He's overcome a lot to get to this point, as his family was evacuated from New Orleans during Hurricane Katrina.
What he said – "I don't want to be normal."
End game – Some teams will be concerned about his baseball abilities and the chance he could attempt to return there. Jones would have been helped by another year as a starter at LSU. There are going to be teams that set him up on their boards as a good choice in the second half of the second round. But there are also going to be teams that have him in the second half of the first round because of his athletic ability.
ON THE CHIEFS LIST? – If they don't use their first-round choice on Eric Berry, then Jones will definitely be on the board in the second round.