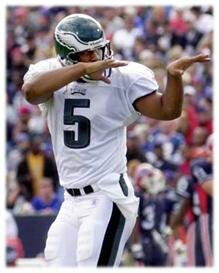 The most talked about, written about and speculated about trade in recent NFL history finally went down Sunday night. The balance of power in the AFC West was not tipped by the Eagles decision to deal quarterback Donovan McNabb.
By all media reports, the Oakland Raiders were the team that was going to add McNabb. That certainly would have changed some of the landscape for the Chiefs and others in the division. But instead, it was the Washington Redskins that paid the price the Eagles were looking for in exchange for their starting quarterback.
The Redskins gave up their second-round choice in this year's NFL Draft and then either a third or fourth-round selection next year, depending on circumstances that were not publicly announced. Quite frankly it must go down as a pretty ballsy move by the Eagles – trading their 31-year old icon to a team in their own division. Everyone will get to see how smart they are twice a year in the NFC East, especially the always vocal Eagles fans.
With the deal, all sorts of dominoes fall around the NFL, and while they were nowhere near this entire scenario, the move has an effect on the Chiefs.
By all indications, Washington was enamored with Oklahoma QB Sam Bradford. The McNabb deal is a sign that Mike Shanahan and Bruce Allen did not think that Bradford was going to be there on the fourth pick, or that they were going to be willing to put together the type of package that would entice the Rams to make a deal.
So why McNabb? Shanahan wants to win now.
He's inherited a roster without much top talent, and working through the NFL Draft to fill all their holes wasn't going to be enough. They've stayed out of throwing money at free agents, so some sort of move had to be made. McNabb has one year to go on his contract. If he performs well, the Redskins can get first crack at signing him. If he doesn't play up to Shanahan's standards, then he'll be a one-year band-aid.
The trade leaves the question: where will Shanahan go with the fourth choice of the Draft? He was also eyeballing Jimmy Clausen, but that won't go down now. Shanny is going to get something that will help McNabb. He's going to be looking for a pass protector like Oklahoma State's Russell Okung, or an offensive weapon that he can deploy in the offense with McNabb.
Whatever Washington does, that could seriously affect that talent pool available to the Chiefs. If they stay at the No. 5 spot in the first round, Scott Pioli and Todd Haley would likely consider Okung among others as their choice. It also means that if some team is enamored with Clausen, the Chiefs may be able to deal that fifth pick and pick up more selections.
The trade keeps McNabb out of the AFC West, and that's helpful to the Chiefs. The Raiders are still sitting there with JaMarcus Russell, Bruce Gradkowski and Charlie Frye as their quarterbacks. That can't make Al Davis very happy. Whether Davis still has confidence in Russell is unknown, but the young man has given no evidence of any reason or the Oakland franchise to stake its future with him.
It's hard to believe the deal doesn't put last year's Redskins starter Jason Campbell on the trade market; obviously he does not fit into Shanahan's plans. Might he end up with the Raiders? That's a lot of fun to think about, given the fact that both Shanahan and Allen once worked for Davis and the Raiders.
Ultimately, the biggest question in this situation is why would the Eagles want to dump McNabb?
In an Eagles PR release Sunday night, owner Jeffrey Lurie said McNabb "truly embodied all of the attributes of a great quarterback and a great person." Team president Joe Banner said the quarterback "has an incredible work ethic and has been an integral part of our success." Head coach Andy Reid said "Donovan McNabb represented everything a football player could be during his 11 seasons in Philadelphia."
So why is McNabb now a member of the Redskins?
It comes down to this: the Eagles are pragmatic businessmen when it comes to building their football team. They were one of the most successful teams in the last decade, with five appearances in the NFC Championship Game and a trip to Super Bowl 39. They did this by building through the draft, and filling holes in the depth chart with a few big free agent signings or trades along the way. This trade is an obvious indication that they feel McNabb has taken the team as far as he could over 11 seasons. He will be 34 years old in late November and as mentioned, he's in the final year of his contract.
The move is an indication Lurie and Reid did not want to pay McNabb the big dollars that it would take to sign him in 2011 and beyond. They are confident that Kevin Kolb (left), a second-round draft choice from 2007 can handle the offense. "Obviously, we have a lot of confidence in Kevin Kolb to make this decision, and he will be the starting quarterback," Reid told the Philly media on Sunday evening.
Rather than keep McNabb for another year and possibly lose him without getting anything in return, they did the deal and got the 37th position in this year's draft and a third or fourth-round pick next year.
This move is something that every team thinks about pulling off with their top players as they age, especially superstars like McNabb. Few are able to forget the past and only consider the future. Hank Stram could not do it with his Super Bowl Chiefs back in the early 1970s and it eventually cost him his job. Chuck Noll turned out to have a similar problem with those great Steelers teams as they aged into the early 1980s.
The Eagles have shown the guts to move forward. They did it earlier this year when they cut ties with RB Brian Westbrook. Last year, they allowed team leader and FS Brian Dawkins to leave in free agency. They've done it time and time again.
"The trick to it is to find that right time to do things and then go from there," said Reid (right) when he spoke with the media at the NFL meetings about 10 days ago. "That's the hardest part of this job. You have guys who have been with you … a Brian Westbrook, who has given everything he has to your program to make you a championship caliber football team. And then you have to tell him, 'Listen. Time's up here.' It's not easy.
"Guys like (Jeremiah) Trotter, Tra (Thomas), (Jon) Runyan, Dawkins, Troy Vincent … those are hard, hard things to do. You feel very loyal to the player for what he's done. They're putting their necks on the line every day, and you have to respect that."
The Eagles are willing to think more about the future than the past. Does that make them smarter than other teams? Not necessarily. Having the guts to pull the chain on one of your most veteran players does not mean you are always correct, whether in the evaluation of the departing player or his replacement.
A football player and his ability are a perishable commodity, and like any commodity it's about buying low and selling high. It's about not getting stuck with a spoiled or diminished product. The Eagles are betting that they've timed the situation just right.
STACKING THE PICKS

Over the weekend, the Eagles picked up three more draft choices in their trades with Washington and Cleveland. That gives them eight of the first 137 selections, which puts them ahead of the Chiefs and Browns when it comes to well-placed picks.
The Chiefs have eight of the first 144 and the Browns have eight of the first 160 spots. Here's how it breaks down for those three teams with the most primo picks:
BROWNS: 7, 38, 71, 85, 92, 134, 146, 160.

CHIEFS: 5, 36, 50, 68, 102, 136, 142, 144.

EAGLES: 24, 37, 55, 70, 87, 105, 121, 137.

PERSONNEL UPDATE/DAYS #28-29-30 OF THE 2010 NFL SEASON

BENGALS – re-signed UFA G Bobbie Williams
BILLS – re-signed ERFA C Christian Gaddis.
BROWNS – acquired CB Sheldon Brown and LB Chris Gocong from the Eagles in a trade.
CARDINALS – signed UFA K Jay Feely (Jets).
CHARGERS – RFA RB Darren Sproles signed his tender offer.
COWBOYS – released OT Flozell Adams and S Ken Hamlin.
EAGLES – acquired a second-round choice in the 2010 NFL Draft and a conditional pick in 2011 in a trade with the Redskins; acquired LB Alex Hall and fourth and fifth-round draft choices in 2010 in a trade with the Browns.
49ERS – re-signed RFA LB Ahmad Brooks to a 2-year contract.
LIONS – signed UFA CB Dante Wesley (Panthers).
RAIDERS – re-signed UFA OT Langston Walker.
PATRIOTS – signed UFA DT Damione Lewis (Panthers).
REDSKINS – acquired QB Donovan McNabb in a trade with the Eagles; signed UFA RB Willie Parker (Steelers).
TEXANS – RFA S Bernard Pollard signed his tender offer.