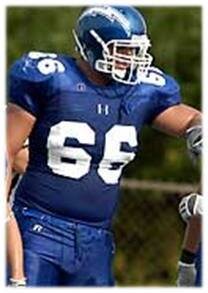 NAME – Jared Veldheer
Position – Offensive tackle.
College – Hillsdale College.
Status – Senior, earned degree in biology.
Size/Weight – 6-8 1/8, 312 pounds.
Important numbers – 5.06 seconds in 40-yard dash, 32 reps on bench press, 33.5-inch vertical jump, 9-feet 1-inch broad jump.
Age – He will turn 23 in mid-June.
Honors – Consensus Division II All-America … was elected team captain in both '08 and '09.
College career – When Veldheer got to Hillsdale as a freshman he was a skinny 255 pounds. He was 285 pounds as a sophomore and has been over 300 pounds for the last two years. He became a starter in his freshman season and remained at left tackle for four years.
Stats of note – 44 games and starts at left tackle; blocked for a 1,000-yard rusher in all four seasons.
STRENGTHS – Big and athletic, Veldheer is sound in run blocking with his fundamentals and mechanics … He has good flexibility for a player that size and has shown good speed, running the 40-yard dash at times just under five seconds … smart, hard working and he could get even bigger.
WEAKNESSES – Not a strong pass blocker, who will need plenty of work on fundamentals and handling the talented edge rushers in the NFL … the level of his competition is a concern for personnel evaluators … will need time to develop into a contributor.
THE RIGHT 53? – Physically gifted, smart, dedicated and with no obvious character problems, this is a young man who has been able to achieve at a level where his team took buses to all their road games and where his offensive line coach was also his strength coach. This guy is not spoiled.
What he said – "Having the right attitude for everything helps. If you have a bad attitude, or think you're better than everyone else, you'll never get the best out of the situation you're in, and you'll never get the best out of the people around you."
End game – Veldheer has a huge upside that will have a lot of teams considering him pretty early, possibly late in the second round. One of the league's better teams is going to be able to draft him, allow him to grow into the left tackle job behind an established starter and they could have a gem.
ON THE CHIEFS LIST? – Has to be, although it's doubtful he could be an immediate contributor. If Veldheer is around in the third or fourth round, the Chiefs should give him serious consideration.