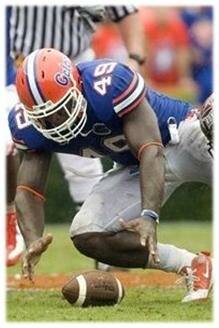 NAME – Jermaine Cunningham
Position – Defensive end/Outside linebacker.
College – Florida.
Status – Senior.
Size/Weight – 6-3 3/8, 266 pounds.
Important numbers – 4.68 seconds in 40-yard dash, but missed rest of NFL Combine work recovering from shoulder surgery.
Age – 22 in late August.
Honors – Second-team All-SEC in '08-'09 … team captain in '08.
College career – A three-year starter in the Gators defense, his overall tackles have gone down each year, while his sack totals have gone up. He's always been a guy who can make big plays, as he forced six turnovers with those 19.5 sacks.
Stats of note – 45 games/38 starts … 152 total tackles, 34 tackles for loss, 19.5 sacks … 5 FF, 1 INT, 1 FR and 7 PBU.
STRENGTHS – Cunningham is a high-effort player, who works at preparation and understanding his defensive assignments …He's played both the left and right side, and has played with one hand down and standing straight up … he's explosive in the pass rush and can drop into coverage … great range.
WEAKNESSES – Not strong enough in his upper body and must improve in that area … not a big hitter who rocks the ball carrier … has trouble getting away from blockers when they lock on him … a subdued personality that sometimes does not come across well in interviews and conversations.
THE RIGHT 53? – As a junior, Cunningham played through the entire '08 season with a hyper-extended knee. He not only played, but started all games. He's a smart football player; he will get his hands up when rushing the passer and knocks down a lot of passes. Only blemish on his career came in '07 when he was arrested after an altercation at a Jimmy John's sandwich shop. Apparently he did not like his sandwich because he threw it at an employee.
What he said – "I see myself as a football player. As long as I get on the field, when the ball is snapped, I'm going for the person with the ball."
End game – He can play defensive end in the 4-3, or outside linebacker in the 3-4. If he plays DE, he's going to have to add more weight; Cunningham added 50 pounds from the time he arrived at Florida through his last game.
ON THE CHIEFS LIST? – Any prospect that has shown the ability to rush the passer is going to be noticed by the Chiefs – that's a simple fact. Cunningham is a good player, but not an elite talent.