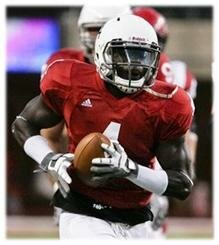 NAME – Larry Asante
Position – Strong safety.
College – Coffeyville CC; Nebraska, earned degree in economics in December.
Status – Senior.
Size/Weight – 6-0 3/8, 212 pounds.
Important numbers – 4.62 seconds in 40-yard dash, 14 reps on bench press, 37.5-inch vertical jump, 9-feet 10-inch broad jump.
Age – 22.
Honors – First-team All-Big 12 in '09 … honorable mention All-Big 12 in '07-'08 … All-Jayhawk League at LB in '06.
College career – Asante named himself "The Assassin" and made a name in the Big 12 for his aggressive – sometimes too aggressive – play. After starting his career in the junior college ranks at Coffeyville, KS. Community College, he made a smooth transition to the Nebraska defense. Asante started 10 games in '07 and finishing second on the team in tackles. He was not out of the opening lineup for the rest of his career.
Stats of note – 38 games/35 starts, 221 total tackles, 1 sack, 3 INT, 3 forced fumbles, returned an interception 74 yards for a TD in '09 against Lousiana-Lafayette.
STRENGTHS – He passes the look test, with NFL-type athletic ability and body … quick reactions on both the run and pass … good change of direction and ability to recover … big tackler who can blow up ball carriers, but does a good job of wrapping up … plays with great intensity.
WEAKNESSES – Asante has had penalty problems and sometimes plays out of control … he's over-aggressive at times, if that's possible in football … he can get to the ball, but has not come up with many interceptions … needs to play as an in-the-box safety, rather than being back or at free safety.
THE RIGHT 53? – As he went through his career with the Cornhuskers, Asante became more of a leader and was willing to do it vocally. He shows a love for the game and a dedication to improving both mentally and physically.
What he said – "When NFL teams take a look at me, I want them to know that my smarts play a big role in my success on the field. I would also say that my athletic abilities, toughness and patience on the field are my greatest strengths. As a safety, you have to be the most patient guy out there, be a leader and make the defensive calls. It's all about reading and reacting and keeping the play in front of you."

End game – Any team looking for a hard hitting safety, are going to take a long look at Asante. Whether he can make the immediate transition to an NFL defense remains to be seen, but with his skills and attitude, he figures to be a special teams standout very quickly.
ON THE CHIEFS LIST? – Should receive consideration in the Kansas City draft room because of the level of competition he played against in the Big 12 and his skills and attitude. There may be better options, but should he still be around at the start of the third round, Asante should be a consideration.