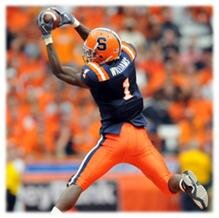 NAME – Mike Williams
Position – Wide receiver
College – Syracuse
Status – Junior
Size/Weight – 6-0 5/8, 197 pounds
Important numbers – 4.53 in 40-yard dash, 8 reps on bench press, 33.5-inch vertical jump, 9-feet 8-inch broad jump.
Age – He will be 23 in May.
Honors – named second-team All-Big East in '07.
College career – Very checkered career with the Orange. Williams did not play in '08 after being suspended under allegations of cheating during the '08 spring semester. Came back in '09, but quit the team after being suspended for one game, and then facing another suspension. When he was on the field as a freshman and sophomore he was very productive and a game-breaker. Williams led the team in receiving as a freshman, the first time that happened at Syracuse in 23 seasons.
Stats of note – 29 games, 133 catches, 2,044 yards, 20 TD catches.
STRENGTHS – He has all the tools necessary for a wide receiver, with good hands, the ability to adjust to the ball in the air and able to catch the throw over his shoulder … explosive first step off the line of scrimmage and in his cuts … does not have great speed, but will run through arm tackles.
WEAKNESSES – Character questions overshadow all his physical skills … does not appear to be willing to stand up and accept responsibility for his actions … gives marginal effort when blocking downfield … because of problems, Williams has limited on-field experience.
THE RIGHT 53? – No way, no how. Physically talented, Williams is lacking in other characteristics.
What he said – "I think I'm ready to play at the next level.  I think I can compete out there, but it's hard to tell. The biggest adjustment is going against corners who have the same talent as me and adjusting to that speed."
End game – There are some NFL scouts who think Williams will not be drafted because of his problems. The academic situation doesn't bother the pro guys as much as his quitting his team in the '09 season. Does not appear to learn from his mistakes and that makes him a real drafting gamble. One team or another will decide they can handle him.
ON THE CHIEFS LIST? – Doubtful. The Chiefs do not have a stable and experienced enough foundation on their roster yet to be able to bring in an unreliable personality like Williams. Physically gifted, he's not an elite athlete and there are other options at the position.