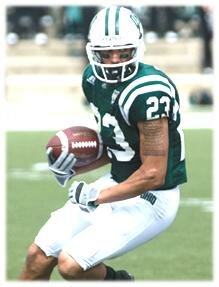 NAME – Taylor Price
Position – Wide receiver.
College – University of Ohio
Status – Senior.
Size/Weight – 6-0 3/8, 204 pounds.
Important numbers – 4.41 seconds in the 40-yard dash, 16 reps on bench press, 37-inch vertical jump, 9-feet 6-inch broad jump.
Age – 22.
College career – Price has been a three-year starter for Ohio and while he didn't produce big numbers, he was pretty consistent and improving the last three seasons with 33, then 51 and 56 catches last season. He showed his athletic ability by throwing 3 TD passes.
Stats of note – 52 games/38 starts … 149 receptions for 2,019 yards and 14 TDs … 24 carries for 165 yards … three pass completions for 79 yards and 3 TDs … 10 kickoff returns for 179 yards … 5 punt returns for 26 yards.
STRENGTHS – Quick off the snap; explosive speed, very good body control … adjusts to poorly thrown balls … catches the ball away from his body … good route runner who can explode out of his cuts … is a north and south runner and adds YAC all the time.
WEAKNESSES – Sometimes Price has concentration issues and will not come up with catchable balls; needs to be more consistent … when QB is in trouble, he sometimes gives up on the play, rather than finding an open spot for the passer … not much of a blocker.
THE RIGHT 53? – Ask Price to do something, and he will. At Ohio he was a runner, receiver, passer and returner. Whatever the Bobcats needed, Price got the job done. He was also durable. Unlike some divas at the WR position, he's a quiet guy who lets his play do the talking.
End game – This guy is an athlete; look at that 40-time, his reps with 225 pounds and his vertical jump. Although he played college ball against competition that was seldom from the top 25, Price got things done. With his speed and hands, he's a prospect. More than one scout has said Price reminds them of Johnny Knox, the wide receiver taken in the fifth round by the Bears last year. Knox caught 45 passes for 527 yards and 5 TDs, along with returning a kickoff for a TD.
ON THE CHIEFS LIST? – Without a doubt, Price should be under consideration because of his speed, athletic ability and intangibles. Getting him at the top of the third round would be big for the Chiefs.