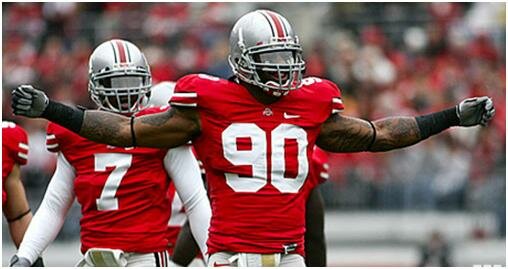 NAME – Thaddeus Gibson
Position – Outside linebacker.
College – Ohio State.
Status – Redshirt junior, scheduled to graduate in June.
Size/Weight – 6-2, 243 pounds.
Important numbers – 4.72 seconds in 40-yard dash, 32 reps on bench press, 9-feet 7-inch broad jump. He was timed in the low 4.6s during his Pro Day workout.
Age – 22.
Honors – Second-team All-Big 10 Conference in '09.
College career – Gibson broke into the Buckeyes starting lineup during the '08 season, beginning at outside linebacker, before moving in '09 to defensive end. He made gradual improvement each season, finishing last year with 45 total tackles, 13 tackles for loss and four sacks.
Stats of note – 35 games/23 starts, 82 total tackles, 25 tackles for loss, 10 sacks, 5 forced fumbles, 2 recovered fumbles, 1 INT.
STRENGTHS – Quick reacting and closes fast on plays … fluid athlete who runs well and combines that with power … played the Leo position in State's defense, a rush outside LB in the304 … also played some at defensive end … strong enough to hold up his end … works really well rushing inside.
WEAKNESSES – He does not always chase ball carriers across the field … did not make a lot of memorable-game turning plays in his time with the Buckeyes … sometimes gets locked up inside, thus negating his speed … didn't appear to be student of the game, with visible signs on tape of teammates moving him into correct alignment.
THE RIGHT 53? – Intangibles are a bit foggy with Gibson, who kept himself available by keeping up with his school work. He showed willingness to work hard as he added 30 pounds to his frame from the time he walked in the door.
What he said – "It's exciting to hear the talk about me going back to linebacker. It's truly the position I love most. I don't mind playing defensive end, either. I'm just excited to get the opportunity and get going."
End game – As for football and his standing in the draft, Gibson needed to stay in Columbus another season. But family medical considerations had him declare early. He's going to be a project and will need a lot of coaching to produce much in his first few years. Coming into the league, he's a pass rushing OLB in the 3-4.
ON THE CHIEFS LIST? – There are better options at outside linebacker that will be available to the Chiefs that could come in and play immediately. But there are few players with the athletic skills of Gibson. Of course, they could bring Gibson in and attach him to another former Ohio State LB in Mike Vrabel for training purposes. This young man has a lot of potential; don't rule him out.