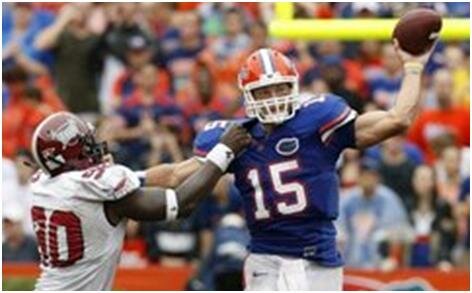 NAME – Cameron Corley Sheffield.
BORN – February 12, 1988
FAMILY – Son of Inez and Frank Sheffield, with two older brothers and two older sisters.
PERSONAL STATS – 6-2¼, 257 pounds, 33-inch arms, 10-inch hands.
MORE PERSONAL STATS – 4.87 seconds in 40-yard dash, 35-inch vertical jump, 9-foot 11-inch broad jump.
HIGH SCHOOL – graduated with the class of 2006 from Portal High School in Portal, Georgia.
ATHLETIC CAREER – Played defensive end and tight end for the Panthers and was an All-Georgia selection in his senior season when he had 74 tackles and 11 sacks. As a junior he had 51 tackles, six sacks and seven forced fumbles. Also left his mark on the basketball court, where he topped 1,000 in both points and rebounds. As a senior, he averaged 13.7 points, 11 rebounds and 3.4 blocks per game.
RECRUITMENT – He received interest from Georgia Southern and Middle Tennessee State, as well as Troy.
FRESHMAN SEASON '06 – Played in nine games as a reserve defensive end, picking up 4 tackles, 2 tackles for loss, 1 sack, 1 interception and 3 passes broken up. His first sack came in the New Orleans Bowl against Rice.
HE SAID: "It's just my nature; I've always been a quiet, shy type."
SOPHOMORE SEASON '07 – Sheffield played I n 12 games and started 11 at defensive end, picking up 27 tackles, 3.5 tackles for loss, 1.5 sacks, 1 pass broken up and a forced fumble.
JUNIOR SEASON '08 – A first-team All-Sun Belt defender, Sheffield had 66 total tackles, 12.5 tackles for loss and 5.5 sacks. He also had 3 forced fumbles, recovered two fumbles, 3 passes broken up and blocked a field goal that was returned for a touchdown.
GAME TO REMEMBER – Against Florida International, Sheffield had 10 tackles, two sacks, forced a fumble and recovered a fumble. He was also credited with six quarterback hurries.
TROY DE COACH RANDY BUTLER SAID: "He clowns a little bit around the other guys. I catch it out of the corner of my eye. When he gets around me, he's serious. He likes to have fun. There's a time and place for everything and he knows it. When it's time to go, he's ready to go."
SENIOR SEASON '09 – Earned second-team All-Sun Belt honors for a season where he had 64 total tackles, 10.5 tackles for loss and 7 sacks. He also forced a fumble and had 1 pass broken up.
EDUCATION – majored in Sports and Fitness Management.