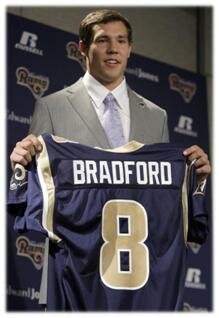 There's only one thing that generally smells worse than a day old diaper in the garbage can: a mock draft a day after he real thing has gone down.
A close second is handing out grades for a team's draft class 24 hours after the selections are made.
But newspapers, magazines and websites are filled on Sunday with evaluations of the 32 teams and their 255 selections in the 2010 NFL Draft. Not a single one of those players has actually played a snap, so it never made sense to me how a team could pass or fail with its picks.
About the only set of grades that I seek out after a Draft are those from Rick Gosselin of the Dallas Morning News. Believe me when I tell you that nobody in the media prepares more and has more information about the NFL Draft each year than Goose. When he posts his list of top 100 players each year, it's the most stolen from post on the web by other football writers and broadcasters.
Here's a link to his grades for the '10 Draft, but here's a summary:
He ranked the Chiefs No. 1 with an A+ grade.
Four other teams got grades of A – Denver, New England, New Orleans, Seattle.
There were two D grades – Jacksonville and Washington.
Every other team got a grade of B or C.
Understand Gooselin's grades are based strictly on the quality of the selected players and their value based on what position they were drafted. The grading scale is not based on whether or not a team filled its needs with their selections. It's also not based on who the team could have drafted rather than those that they did.
Here's what Rick had to say about the Chiefs 2010 draft class:
"The Chiefs drafted the NFL defensive rookie of the year in Berry – and a slew of other good players. Arenas was the best returner in the draft, and McCluster will give the AFC matchup problems at both running back and receiver."

A quick glance at other graders had the Chiefs receiving everything from B+ to C-. That's pretty typical with this process where one man's garbage is another man's diamond.
So expect no grades here, but there is something to say about each team and the quality of the talent they added over the three days in April.
AFC DRAFT CHOICES

BALTIMORE (7 picks) – The Ravens traded out of the first round and on paper made it work. They added three defensive prospects that all came with dents and scratches: OLB/DE Sergio Kindle (knee), NT Terrence Cody (weight) and DT Art Jones (knee). If those guys pay off, Baltimore will be very well served. Keep an eye on 4th-round TE Dennis Pitta out of BYU; he could be the guy who replaces the oft-injured Todd Heap.
BUFFALO (9) – Taking RB C.J. Spiller with the first pick seems like a luxury choice for the Bills, although he's one of those weapons that offensive guys like head coach Chan Gailey love. The emphasis on the rest of the draft was on the defensive line as four of the nine picks played on the front. Keep an eye on 3rd-round choice DE Alex Carrington out of Arkansas State.
CINCINNATI (9) – Without a doubt the Bengals went out to get some playmates for QB Carson Palmer with 1st-round TE Jermaine Gresham, 3rd-round WR Jordan Shipley and then later Kansas WR Dezmon Briscoe in the sixth round. Keep an eye on 3rd-round CB Brandon Ghee.
CLEVELAND (8) – The Browns added three defensive backs: in first-round CB Joe Haden and second-round and fifth-round safeties T.J. Ward and Larry Asante. Grabbing QB Colt McCoy in the third is a perfect set up for the young man. Keep an eye on 2nd-round RB Montario Hardesty out of Tennessee. He's a big, bruising back, perfect for Cleveland in November and December.
DENVER (9) – Say this for Josh McDaniels: he's got guts. Trading back into the late first round to get QB Tim Tebow was a bit an unorthodox move and he also paid too high of a price. Tebow along with 1st-round WR Demaryius Thomas basically fit in the holes in the roster created when McDaniels dumped QB Jay Cutler and WR Brandon Marshall. Keep an eye on 3rd-round WR Eric Decker out of Minnesota. He dropped in the draft because of an injury suffered at the Senior Bowl.
HOUSTON (9) – Four of the Texans' top six picks went to the defense, including 1st-round CB Kareem Jackson; he fills the hole created when Dunta Robinson left as a UFA and signed with Atlanta. Keep an eye on 6th-round RB Trindon Holliday, the little guy out of LSU who will return kicks with his outstanding speed.
INDIANAPOLIS (8) – The emphasis of the Colts was defense, as six of their eight selections went to that side of the ball. The group is led by 1st-round DE Jerry Hughes out of TCU, who is very much in the Dwight Freeney-Robert Mathis mold when it comes to rushing the passer. Keep an eye on 5th-round TE Brody Eldridge out of Oklahoma. He's big and tough, and athletic as well.
JACKSONVILLE (6) – Obviously the Jaguars decided it was time to rebuild their defensive line as the first four choices all play at tackle and end. First-round DE Tyson Alualu was considered a reach, but he's a versatile and talented player. He's also much more mature than the average Jaguars player that we've seen on the police blotter a lot over the last few years. Keep an eye on 6th-round DB Scott McGee of James Madison, one of the best returners coming out of college football.
MIAMI (8) – Defense was the focus for the Dolphins as seven of their selections came on the line (2), linebacker (3) and secondary (2). 1st-round DT Jared Odrick and 2nd-round OLB Koa Misi figure to move into the starting lineup. Keep an eye on 5th-round safety Reshad Jones out of Georgia.
NEW ENGLAND (12) – When all of his wheeling and dealing were done, Bill Belichick ended up with a dozen players. The choices were spread out amongst the offense, defense and special teams. Three of the first six were all from the University of Florida. Keep an eye on 3rd-round WR Taylor Price from Ohio University. QB Tom Brady will fall in love with this guy pretty quickly.
NEW YORK JETS (4) – There hasn't been a team more active in off-season moves than the Jets, but the draft produced just four choices. Keep an eye on 2nd-round OT Vladimir Ducasse out of UMass who is raw, but an athletically gifted blocker.
OAKLAND (9) – Generally, the Raiders would have used their early choices on workout warriors and sprinters wearing helmets and shoulder pads. Instead, this year they waited until the fourth round to select those types of players. This allowed them to pick up two potential defensive starters earlier: LB Rolando McClain and DT Lamarr Houston. Keep an eye on 3rd-round OT Jared Veldheer from tiny Hillsdale College in Michigan. He's a huge, talented but raw blocker.
PITTSBURGH (10) – The Steelers are always finding linebackers for their 3-4 defense and they got three more in this draft: Jason Worilds, Thaddeus Gibson and Stevenson Sylvester. Getting RB Jonathan Dwyer in the 6th-round was a nice value choice. Keep an eye on 3rd-found WR Emmanuel Sanders out of SMU; his talents have the chance to replace the departed Santonio Holmes.
SAN DIEGO (6) – This draft saw the Chargers at times reaching to fill holes in their talented roster. They did that with RB Ryan Mathews in the first round and LB Donald Butler in the third round. Keep an eye on 4th-round S Darrell Stuckey out of Kansas. If he can handle the mental end of the San Diego defense, he could make a quick contribution.
TENNESSEE (9) – It was defense for the Titans, as six of their nine selections went for defenders, including 1st-rounder DE Derrick Morgan. Keep an eye on 6th-round S Myron Rolle. The Rhodes Scholar's draft stock dropped this year due to his spending the fall in Oxford, England instead of visiting possibly Oxford, Mississippi. He can make up for a deficiency in speed with his smarts.
NFC DRAFT CHOICES

ARIZONA (7) – The Cardinals drafted to fill the holes in their roster, grabbing LB Daryl Washington in the second round to replace Karlos Dansby and WR Andre Roberts in the third round with veteran WR Anquan Boldin gone. Keep an eye on 4th-round DE O'Brien Schofield, who is recovering from a knee injury suffered at the Senior Bowl. Before that injury he was considered a first-round choice.
ATLANTA (7) – Defense was on the Falcons mind with their first two choices of Mizzou LB Sean Weatherspoon and DT Corey Peters. They also grabbed a nice 5th-round cornerback in Dominique Franks out of Oklahoma. Keep an eye on 3rd-round C Mike Johnson from Alabama; he's a battle tested inside blocker who is strong, athletic and smart.
CAROLINA (10) – The Panthers did not have a first-round selection and they had three of the first 123 selections, but six of the last 80 choices. Carolina certainly got their quarterbacks worth, grabbing Notre Dame's Jimmy Clausen with the 48th pick, Armanti Edwards out of Appalachian State at No. 89 and Cincinnati's Tony Pike with the 204th selection. Keep an eye on 4th-round LB Eric Norwood, a talented tackler out of South Carolina.
CHICAGO (5) – It was a very quiet draft for the Bears, who had only one of the first 100 choices, that not coming until No. 75 with Florida S Major Wright.
DALLAS (6) – GM Jerry Jones got things done with his first three choices, drafting WR Dez Bryant, LB Sean Lee and small-college CB Akwasi Owusu-Ansah. The Bryant choice was a typical Jones move, one that will continue to draw headlines and had people talking about the Cowboys. Keep an eye on Owusu-Ansah out of Indiana University of Pennsylvania; he's got NFL speed and athletic ability.
DETROIT (6) – The Lions made so many crazy and bad draft choices for years under GM Matt Millen that it's hard to know how to react when Detroit gets the job right. They scored on their first four choices, topped by the best player in this year's draft, Nebraska DT Ndamukong Suh. Keep an eye on 7th-round DE Willie Young; he's a talented but under achieving player out o f North Carolina State.
GREEN BAY (7) – Top picks OT Bryan Bulaga and D Mike Neal give the Packers are pair of very big bodies to develop in the new two years. The rest of their class was fairly nondescript. Keep an eye on 5th-round TE Andrew Quarless out of Penn State.
MINNESOTA (8) – Underachievers filled two of the Vikings first three draft spots with CB Chris Cook out of Virginia and Southern Cal DE Everson Griffen. Overachiever Toby Gerhart is a nice pickup but where he fits with Adrian Peterson in the backfield. Keep an eye on 6th-round QB Joe Webb out of UAB; he's not so much a future QB as an offensive weapon as a receiver, runner and wildcat QB.
NEW ORLEANS (6) – Drafting at the bottom of each round as the Saints did is tough, but they were able to get two potentially good players in CB Patrick Robinson and OT Charles Brown. Keep an eye on 3rd-round TE Jimmy Graham, the basketball player out of Miami. If he continues to progress like he did in his only season of college ball with the Hurricanes, Graham will be contributing very quickly to the Saints offense.
NEW YORK GIANTS (7) – Defense was the name of the game for the Giants, especially on the defensive line where three of their seven picks line up each week. First-round DE Jason Pierre-Paul remains raw, but he has very good pass rushing skills. Second-round DT Linval Joseph is a big body inside to stop the run. Keep an eye on 3rd-round S Chad Jones out of LSU; he's got a big upside.
PHILADELPHIA (13) – The Eagles were thinking defense in this Draft, with their top five picks and nine of 13 overall coming on that side of the ball. LBs Brandon Graham and Keenan Clayton figure to get the first chances to play, along with DE Daniel Te'o-Nesheim. Keep an eye on DE Ricky Sapp out of Clemson, who was a good value pick at No. 134.
SAN FRANCISCO (8) – This was an interesting class put together by the 49ers, as three of their first four picks are players with first-round physical ability, but production or character issues. Second-round S Taylor Mays from Southern Cal and 3rd-round LB Navorro Bowman out of Penn State are boom or bust type players. Keep an eye on 6th-round RB Anthony Dixon out of Mississippi State; he's a big body running back who can provide power to the San Fran offense.
SEATTLE (9) – In their first draft together John Schneider and Pete Carroll were very active in what they got done and added some important parts to the Seahawks with OT Russell Okung, S Earl Thomas and WR Golden Tate. Keep an eye on 5th-round S Kam Chancellor from Virginia.
ST. LOUIS (11) – The Rams needed so much help and added it across the board on offense and defense, topped by QB Sam Bradford and one of his protectors OT Rodger Saffold. Keep an eye on 7th-round DE George Selvie out of South Florida. He was considered a second-round talent last year, but was lost in '09 in the dust of teammate Jason Pierre-Paul.
TAMPA BAY (9) – In year No. 2 post-Jon Gruden and Bruce Allen, the Buccaneers look like they did a good job with their top four choices, getting a pair of DTs in Gerald McCoy and Brian Price, then WR Arrelious Benn and finally CB Myron Lewis. Keep an eye o n 7th-round LB Dekoda Watson from Florida State; under-sized impact tackler.
WASHINGTON (6) – The Redskins had only one of the first 102 players drafted, which is never a good thing for a team that went 4-12 last season. First-round OT Trent Williams should start immediately on the left side. Keep an eye on 7th-round OT Selvish Capers out of West Virginia; he may end up starting on the right side.