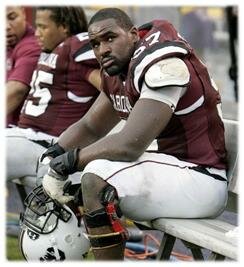 Here is the second batch of undrafted college players that the Chiefs announced contracts with on Sunday.
G LEMUEL JEANPIERRE/SOUTH CAROLINA, 6-3, 301 pounds (right)

Jeanpierre played in 36 games with 21 starts for the Gamecocks. He began his career there as a defensive lineman, playing there during his red-shirt season of '05 and in '06 where he played in all 13 games and finished with 17 tackles, 6 tackles for loss and 2 sacks. Moved to offense in spring practice in '08, and started games at both left and right guard before suffering a knee injury that ended his season. He was back in the starting lineup in '09.
A native of Orlando, he earned all-state honors at Timber Creek High School, where he was regarded as one of the best defensive line prospects in the country. He pronounces his name La-Mule Jon-Pierre.
WR JEREMY HORNE-MURDOCK/MASSACHUSETTS, 6-2, 193 pounds

Horne-Murdock played in 43 games at Amherst with 20 starts; he was a primary starter over the last two seasons. He caught 84 passes for 1,338 yards and 11 TDS. He also returned 55 kickoffs for a 16.8-yard average. Against Kansas State in the '09 season, he blocked a punt that was returned for a TD. His career best game came in '08 when he caught 10 passes for 172 yards and 2 TDs against Holy Cross. Horne-Murdock first attended Syracuse, where he spent two seasons (2005-06) where he had a red-shirt year and then played in seven games in '06, without catching a pass.
His schoolboy football was played at Milford Academy in New Berlin, New York, a program where he played with LeSean McCoy and Shonn Greene. With the Falcons over his last two seasons, he caught 43 passes for 884 yards and six TDs.
LB MICHAEL JOHNSON/NORTH ALABAMA, 6-0, 254 pounds (left)

Johnson was the Division II Defensive Player of the Year and consensus first team All-America on the Division II level. Playing for head coach Terry Bowden, he had 113 total tackles, 17 tackles for loss and 5 sacks. He played in 49 games for the Lions with 44 starts, racking up 365 total tackles, 31.5 tackles for loss, 8.5 sacks, 5 interceptions, 6 forced fumbles and 4 recovered fumbles.
He played at Bay High School in Panama City, Florida, where he was a running back/linebacker. As a junior, he ran for a school record 208 yards on eight carries.
RB TERVARIS JOHNSON/MIAMI, FL, 6-2, 248 pounds (right)

Johnson played in 48 games with 7 starts for the Hurricanes. He began his career as a cornerback, playing there in 23 games during the 2006-07 seasons. Before the '08 season he moved to tight end, and in two seasons there he caught eight passes for 94 yards and 2 TDs. He played a great deal on special teams as well.
He attended Monsignor Pace High School in Miami Gardens, where over his three seasons on the varsity for the Spartans, he played tight end, wide receiver, linebacker, cornerback and safety. As a sophomore in '03, he had two catches for 95 yards in the state championship game. He began his high school career as a freshman at Carol City.
OT NICK LANDRY/TULANE, 6-5, 291 pounds

Landry was part of 40 games at Tulane, starting 20 games for the Green Wave. He moved into a starting role at right tackle for the 2009 season. He played at West Brook High School in Beaumont, Texas, where he was a three-year starter at offensive tackle. He also played basketball and was part of the track & field team for the Bruins.
G/C ANDREW LEWIS/OKLAHOMA STATE, 6-4, 298 pounds (left)

In four seasons with the Cowboys, Lewis played in 50 games and started 37 times. He became a starter during his sophomore season in 2007, and has bounced from starting roles at guard and center over the last three years. He earned a degree in management back in December '08.
At Joplin High School, Lewis played center on offense and tackle on defense and was first-team All-State at center in his senior season. His father Steve played football at Texas A&M.