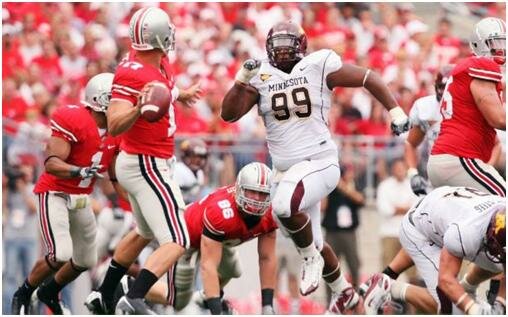 After the draft ended Saturday evening, the Chiefs along with their 31 NFL brothers went about the business of signing undrafted players as college free agents.
The Chiefs announced 11 of those signings on Sunday. Here's the first part of that group.
NT GARRETT BROWN/MINNESOTA, 6-1, 309 pounds (No. 99 above)

Brown played in 47 games with 33 starts for the Golden Gophers, with 99 total tackles, 12.5 tackles for loss and five sacks. He was a two-year starter and team captain in '09. Brown graduated in January with a degree in sports management. He played three years at Fairfield Prep in Conneticut, racking up 315 tackles and 21 sacks. Before that he had not played football, participating in hockey and lacrosse.
"I haven't been playing football very long, but I've developed a love and passion for the game," Brown told the Stamford Advocate newspaper. "It's something that I pride myself in. I would love to play football at the next level, instead of sitting at a desk every day. The last seven years have been incredible. I'm completely committed to becoming a Kansas City Chief now. Hopefully they have faith in me to play on Sundays."
OLB JUSTIN COLE/SAN JOSE STATE, 6-3, 242 pounds

Cole played in 49 games with 42 starts, with 193 tackles, 30.5 tackles for loss, 13 sacks, 1 interception and 4 forced fumbles. During his time with the Spartans, he played both defensive end and outside linebacker. He grew up in Chino Hills, California, where he played at Chino Hills High School as a defensive end/linebacker. He was also a sprinter and long jumper in track & field.
TE T.C. DRAKE/KENTUCKY, 6-4, 248 pounds

Drake played in 48 games with 19 stars for the Wildcats. He caught 20 passes for 281 yards with one TD catch. A native of Bardstown, Kentucky, he played at Nelson County High School and then spent one season at Hargrave Military Academy. At Nelson, he had 15 catches for 400 yards and 7 TDs. At Hargrave he caught 25 passes for 175 yards.
OT TYLER EASTMAN/MAINE, 6-5, 310 pounds

Eastman was a two-year starter at left tackle for the Black Bears, after spending his first two seasons working as a reserve lineman at guard and tackle. The Maine native attended Old Town High School, where he participated in football, basketball, baseball and track & field. He won the state indoor and outdoor shot put titles in 2005.
WR RICH GUNNELL/BOSTON COLLEGE, 5-11, 197 pounds (left)

A record-setting receiver for the Golden Eagles, Gunnell finished his career with 181 catches for 2,459 yards. That's the most yards by any B.C. receiver and the second most receptions. He was an offensive co-captain in '09. Last season, he had an on-field confrontation with Notre Dame QB Jimmy Clausen that was captured by TV cameras. The moment was fueled by on-field pre-game comments that Clausen shouted at Boston College. Here's the link to the
At Notre Dame High School in Lawrenceville, New Jersey, Gunnell had 115 catches for 2,200 yards and 38 TD catches. He also returned 5 punts and kickoffs for touchdowns.