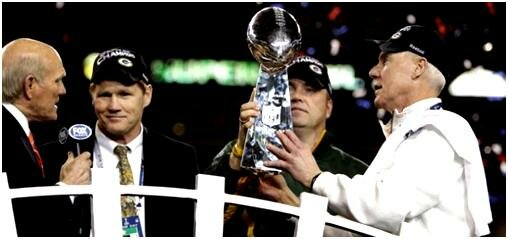 The Green Bay Packers had just won Super Bowl 45 and general manager Ted Thompson was cornered in the bowels of Cowboys Stadium. The media had him surrounded. That's him above on the far right, touching the Lombardi Trophy.
As always in these situations, Thompson appeared very uncomfortable. The man who built the Packers team that was able to control the league championship game against the Pittsburgh Steelers doesn't enjoy the parry and thrust that goes with the media covering the team. To say that he prefers to stay in the shadows doesn't begin to explain his trepidation in answering questions.
Thompson was up on the podium after the game, and was handed the Vince Lombardi Trophy and Fox-TV shoved a microphone in his face.  
"I didn't know they were going to ask me any questions, so I wasn't ready for an answer," Thompson said. "It was kind of surreal because all this confetti is falling and you're holding the trophy and you just beat the Steelers in the Super Bowl, which is really rare and it's still all kind of settling. It just wasn't all there.
"I feel relief. First of all, we were able to hold on and win. I feel a sense of pride of the guys in this locker room. I've said this over and over, a team is something very, very special and a championship team that goes through all the things that this one went through is remarkably special."
Whether that phobia for speaking is built on insecurity of dealing with the media, or a simple disdain for the spotlight nobody knows, because he doesn't expose those parts of himself. Even as he was enjoying the first moments of being in charge of the Super Bowl champions, there was no chest thumping or fist pumping.
A football lifer, Ted Thompson is used to keeping things inside.
"I think we have a good team," Thompson said. "But if we learned anything from this year, your best laid plans . . . this isn't fantasy football. You can't say, 'We got this guy at tight end. We got this guy at left tackle.' You can't plan that way. You have to try and get as many good players as you can. I hope and I think we'll be a competitive team in the future but we'll still be the kind of team that has to play well and if we play well, we'll have a chance to win."
With all apologies to Chiefs G.M. Scott Pioli who was voted the league's executive of the year for 2010, there's nobody running an NFL team that deserves the honor more than Thompson. The Packers championship was built on a strong big picture plan of creating a contender, along with a little picture view that allowed Green Bay to overcome a rash of injuries and players lost that would have sunk most teams.
But even down to the Super Bowl game itself, the Packers did not allow themselves to be thrown off-course. They lost two of their most veteran players, team leaders CB Charles Woodson and WR Donald Driver, in the first half. It did not slow them down, as they rolled to the victory.
"Well, they've done it all year long, especially our defense," Thompson said. "I'll just take that, for instance. You lose a guy like (Charles) Woodson you've lost a lot of the options that you were planning on using during the course of a game. We were able to get a couple turnovers; those in the first half were huge and we hung on and we won. I wouldn't have wanted to play a six-quarter game."
The Packers ended the season with 15 players on the injured reserve list, including eight players who started at least one game during the '10 season. One of their best defensive players in the second half of the season was LB Erik Walden. He was signed on October 27th and ended up playing in eight regular season games and three in the post-season. Over that time, he was the team's leading tackler and added three sacks.
But Thompson has built this team through the draft, while paying scant attention to unrestricted free agents. As the chart below shows, the Packers had 17 draft choices in their 22 starting spots for the victory over Pittsburgh, and only two UFAs.
The key to NFL success always centers around the quarterback position and it was how Thompson handled this spot where he showed his brains and his guts. Back in the first-round of the 2005 NFL Draft, the Packers were picking No. 24 needed help at several positions. But Thompson couldn't take his eyes of University of California QB Aaron Rodgers, who had been under consideration for the first choice in the draft by San Francisco. When the 49ers instead selected Utah's Alex Smith, Rodgers did a freefall in the first round and was available at No. 24.
"In any sort of personnel decision that you make you're always hoping that it works out," Thompson said of drafting Rodgers. "There's always some chance that (it doesn't). Every draft doesn't work out the way you want it to, every player doesn't work out, and injuries can happen – things like that. You try to make the best decision you can and you move on."
Thompson grabbed Rodgers and set up what would become a football soap opera involving QB Brett Favre. After three seasons (2005-07) as a seldom used backup, the Packers personnel department decided it was time to move. Favre started his annual roller coaster ride of whether he should retire or not. The Packers told them he should quit, and that set off the dramatics of "As The Cheese Turned" with Favre eventually traded to the New York Jets.
And Rodgers was in the starting lineup for the '08 opener. Three seasons later, he was the starting, winning and MVP quarterback in the Super Bowl.
Vindication for Thompson?
"I don't think about stuff like that," Thompson said.
"I'm very proud of Aaron. He's a good player, a good teammate. I think people are going to write stories about him 10 years from now; he's pretty special. Even though he's done so much, he's still just kind of getting started."
Thompson has built a championship team that may be "just kind of getting started." Of the 68 players on the active roster and injured-reserve list, 33 are 25 years old or younger. Only 10 are 30 or older and 14 have put in 10 seasons or more in pro football.
"We've had a lot of draft choices over the last few years, and within our strength and conditioning program and within our coaching staff, I think we've gotten some development out of that," said Thompson, who has had 47 selections in the last five drafts. From that group 10 are starters and 30 are still on the Packers roster or IR-list.
"The experience that all these players have had, being forced to play this year, should bode well for increased depth and things like that going forward," Thompson said. "But, if this year's taught us anything, it's hard to plan for much more than next week. It's almost like put a Band-Aid on this one just to get by this week. While you can say it looks great for the depth and quality of our team next year, you just never know how it's going to work."
Work it has, with a championship team and a young roster that has its best football ahead of them.
To make sure that process continues successfully, on Tuesday morning the Packers personnel department led by Thompson and his top advisers Reggie McKenzie and John Dorsey, will gather to begin preparations for the NFL Combine later this month.
It will continue a process that Ted Thompson learned from former Packers GM Ron Wolf.
"It's just doing a lot of tape study, turning over rocks, seeing what's under there and bringing guys in to work them out and be prepared," Thompson said. "We're not different than anyone else. We hope we do our job well but everybody's looking a lot of the same now. We talk to our players about this being a tough business and there's no time for excuses. Other teams don't care if you have injuries; they're not going to take it easy on you. So you just got to get ready to go."
GREEN BAY PACKERS ROSTER/IR MAKEUP

| | | | | |
| --- | --- | --- | --- | --- |
| Source | Starters & Specialists | Backups | Total |   |
| DC-1 | RT Bryan Bulaga, QB Aaron Rodgers, NT B.J. Raji, LB Clay Matthews, LB A.J. Hawk, LB Nick Barnett |  1 | 7 |   |
| DC-2 | WR Greg Jennings, LT Chad Clifton, LB Daryn Colledge, RB Brandon Jackson, FS Nick Collins |  3 | 8 |   |
| DC-3 | S Morgan Burnett, TE Jermichael Finley | 2 | 4 |   |
| DC-4 | RG Josh Sitton | 2 | 3 |   |
| DC-5 | TE Andrew Quarless | 2 | 3 |   |
| DC-6 | FB Korey Hall, LB Desmond Bishop, K Mason Crosby |  3 | 6 |   |
| DC-7 | C Scott Wells, WR Donald Driver, LB Brad Jones, OT Mark Tauscher |  5 | 9 |   |
| College F.A. | DE Cullen Jenkins | 5 | 6 |   |
| Street F.A. | LB Erik Walden, CB Tramon Williams, SS Charlie Peprah, P Tim Masthay, LS Brett Goode. |  9 | 14 |   |
| Unrestricted Free Agents | DE Ryan Pickett, CB Charles Woodson |  1 | 3 |   |
| Waivers |   | 4 | 4 |   |
| Trades | RB Ryan Grant | 2 | 3 |   |
Players in green are starters on the injured-reserve list.

SUPER BOWL 45 SETS VIEWING RECORDS

Television ratings were through the roof for Super Bowl 45 on Sunday evening, as a record-total of 162.9 million people watched the game broadcast on the Fox Network.
Those numbers make it the most-watched program in television history.
The game between the Packers and Steelers drew 9.5 million more viewers than Super Bowl 44 between the Colts and Saints last year. The audience for the Saints victory was 153.4 million, then a record.
NFL PERSONNEL FILE FOR MONDAY, FEBRUARY 7

EAGLES – named Mike Caldwell as linebackers coach and Mike Zordich as secondary/safeties coach.
JAGUARS – released OT Jordan Black.
TITANS – named Mike Munchak head coach.