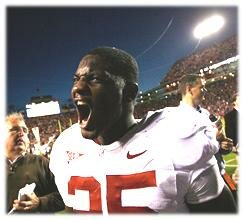 Chiefs GM Scott Pioli was talking the other day about how information on potential draft picks keeps flowing right up until moments before selection.
The 2010 NFL Draft got a taste of that on Saturday when Alabama LB Rolando McClain (right) told a Birmingham, Alabama newspaper that he does not have Crohn's Disease, an inflammation of the intestines that can sometimes be very painful and disruptive to a person's health.
It was McClain who surprised everyone at the Alabama Pro Day workout last month when he said he had the malady since he was in the ninth grade.
Saturday in Tuscaloosa as he was having his handprint and cleat print set in cement at a Walk of Fame on the University of Alabama quadrangle, McClain said he has now been told he does not have Crohn's.
"In all my talks with my doctors in the past two weeks, with all the tests we've done, they don't even feel I have Crohn's disease," McClain said. "The tests came out good and positive. Every team knows it's not going to affect me at all.
"I don't have any signs of it right now."
This is of interest to the Chiefs, who despite their reticence to talk about their draft plans, have McClain as one of those players on their draft board of 100 or so names. If they like him enough, they'll have to get him with the fifth pick in the first round. At least, that's what they would have to do now. There remains the possibility they could trade down and out of that No. 5 spot. Or, they may find another defensive player more to their liking available, somebody such as DT Ndamukong Suh or S Eric Berry.
With four days until the first round of the Draft, it's time to check back in with the odds makers at the Gretz Sports Book/Gas Station/Gift Shop in Miami, Oklahoma. At the close of business on Sunday, here are the big board odds on what the Chiefs will do and what the odds were 10 day ago when we last checked on them:
4-to-1 (same) they select Tennessee safety Eric Berry – The more you hear and the more you discover about this young man, it seems he has the chance to be a very special defensive player. Some think the fifth spot in the first round is too high for a safety. Certainly it doesn't happen very often in the top five. Since the AFL-NFL combined their drafts in 1967, there have been five safeties taken in the first five picks: Sean Taylor by Washington in 2004 at No. 5; Eric Turner by Cleveland at No. 2 in 1991; Bennie Blades by Detroit at No. 3 in 1988; Ricky Dixon by Cincinnati at No. 5 in 1988; Kenny Easley by Seattle at No 4 in 1981. But the only way for the Chiefs to draft a player of Berry's caliber is to pick him. They so desperately need help on the back line it's hard to see how they can pass.
5-to-1 (3-to-1) they select Alabama linebacker Rolando McClain – Yes, they badly need help at inside linebacker on the Chiefs defense as well. Yes, McClain is the best insider backer available in this draft. It's hard to explain why he was our favorite just 10 days ago and has dropped to No. 2 other than this: Berry will be on the field for every play from his first game in the league. McClain would be a welcome addition on first down, but if he did his job, he'd be out on the next play.
10-to-1 (40-to-1) they trade down and out of the No. 5 spot – Oh how the Chiefs would love to move down a few spots, pick up another second or third-round pick – or both – and still get a very good player. To do that, they would have to stay somewhere between the sixth and 12th slots. That would be Seattle, Cleveland, Oakland, Buffalo, Jacksonville, Denver and Miami. Forget Oakland and Denver; that just won't happen at the top of the first round with an AFC West foe. It's going to take one of those other teams to really be in love with a player who is still available at No. 5.
11-to-1 (7-to-1) they select a player from the field that isn't expected – Two words: Tyson Jackson.
12-to-1 (8-to-1) they select Iowa OT Bryan Bulaga – He's dropping on our big board if they stay at No. 5 because there would be better options. Now, if they trade down, Bulaga's odds would grow increasingly more likely.
15-to-1 (no odds) they select Oklahoma State OT Russell Okung – Don't just love when the media writes about two weeks ago about how the top four picks are locked down. Then, just four days before the draft we discover that's not the case, not the case at all. Other than QB Sam Bradford going to St. Louis with the first choice, there's nothing set in stone with Detroit, Tampa Bay and Washington. Chances are one of those spots at No. 2, 3 or 4 will go to Okung. The longer odds on Okung are reflective of the fact the Chiefs are unlikely to have the opportunity to even consider him.
25-to-1 (no odds) they select Nebraska DT Ndamukong Suh – As the pundits and mock drafters keep throwing up different versions of what's going to happen on Thursday night, suddenly there are predictions that Suh will still be available at No. 5. That seems like idiocy, but we've put it on the big board as a long shot.
50-to-1 (none) they trade up from the fifth spot – They have those two second-round picks that could get them up a spot or two in the order. But that kind of deal doesn't make sense for this team at this time: they need bodies, not a specific body.
100-to-1 (same) they select Oklahoma State WR Dez Bryant – If the Chiefs made this pick it would be one of the biggest upsets in draft history.
Off the board: Notre Dame QB Jimmy Clausen.
PERSONNEL FILE FROM FRIDAY/SATURDAY/SUNDAY

BRONCOS – RFA QB Kyle Orton signed tender offer.
BUCCANEERS – RFA WR Maurice Stovall signed tender offer.
COWBOYS – RFA WR Sam Hurd signed tender offer.
DOLPHINS – acquired a fifth-round selection in the '10 NFL Draft from the 49ers in a trade.
49ERS – acquired WR Ted Ginn Jr. from the Dolphins in a trade.
GIANTS – RFA WR Domenik Hixon signed tender offer; ERFA CB D.J. Johnson signed.
LIONS – released S Kalvin Pearson, CB Brian Witherspoon and CB Kevin Hobbs.
PACKERS – RFA RB John Kuhn signed tender offer.
PANTHERS – RFA TE Jeff King signed tender offer; signed CB Brian Witherspoon (Lions).
PATRIOTS – RFA K Stephen Gostkowski signed tender offer.
RAIDERS – RFA LB Thomas Howard signed tender offer.
RAVENS – RFA QB Troy Smith and RFA G Marshal Yanda signed tender offers; ERFA RB Jalen Parmele signed.
REDSKINS – RFA DT Kedric Golston signed tender offer.
SEAHAWKS – signed UFA CB Kennard Cox (Jaguars); signed WR Reggie Williams and G Mitch Erickson; released G Trevor Canfield.
STEELERS – RFA P Daniel Sepulveda and RFA CB William Gay signed tender offer.