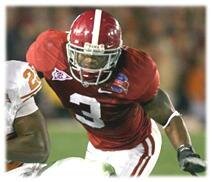 NAME – Kareem Jackson
Position – Cornerback.
College – Alabama.
Status – Junior.
Size/Weight – 5-10½, 196 pounds.
Important numbers – 4.4 seconds in 40-yard dash, 13 reps on bench press, 37.5-inch vertical jump, 9-feet 10-inch broad jump.
Age – 22.
College career – A three-year starter at cornerback in the Alabama defense, he improved from season to season, even though he never achieved All-SEC status in any of his three seasons. Jackson was an active tackler in the Tide defense with 159 total tackles in 41 games, but he did not have a lot of interceptions, finishing with five.
Stats of note – 41 games/39 starts … 159 total tackles, 8 tackles for loss … 5 IINTs, 29 passes broken up, 1 forced fumble, 1 recovered fumble … 2 blocked kicks.
STRENGTHS – Physical and aggressive corner, he can play man or zone quite well … generally very good instincts and awareness … will support the run and is a good tackler … quick feet allows him to make up for a lack of top end speed … playing in Nick Saban defense, gives him a step up in NFL over other college CBs.
WEAKNESSES – over aggressive at times and puts himself in bad positions on double moves and quick comebacks … his lack of speed hurts him against speedy receivers … has trouble staying up with shifty quick receivers as well … does not shed blockers well in run support .
THE RIGHT 53? – Jackson is not afraid to work hard both mentally and physically and he puts in time looking at a lot of opponent's tape. No character concerns have popped up with the young man.
What he said – "I want to get better at everything I do; as far as my game [and] my technique. But I think my physicality will help me a whole lot, at the line of scrimmage. We played a lot of press-man [coverage]."
End game – If he was a step faster, Jackson would have the resume to be a top five selection. More than likely he will be selected in the bottom half of the first round or early in the second. Should a run on cornerbacks start, Jackson's draft slot will be higher.
ON THE CHIEFS LIST? – Surely he must be part of the Chiefs draft board, but not a priority. No team can have enough good cornerbacks, but it's not one of the team's major positions of need.