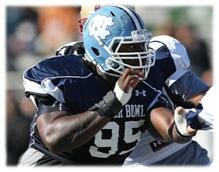 NAME – Cam Thomas
Position – Defensive tackle.
College – North Carolina.
Status – Redshirt senior.
Size/Weight – 6-4, 330 pounds.
Important numbers – 5.29 seconds in 40-yard dash, 31 reps on bench press, 29-inch vertical jump, 8-feet 6-inch broad jump.
Age – 23.
College career – Broke into the starting lineup in his second playing season and stayed there, working as part of a defensive line rotation for the Tar Heels. Thomas is a space-eater, and became very adept at closing two games and frequently handling two blockers. With the presence of North Carolina coach Butch Davis, Thomas has gotten a chance to play in pro style defensive schemes.
Stats of note – 46 games, 83 total tackles, 9 tackles for loss, 3.5 sacks, 1 forced fumble, 1 fumble recovered, returned 20 yards for TD against Boston College.
STRENGTHS – Thomas has a thick lower body and can powerfully hold his ground inside … he's very good at using leverage, with long arms and big hands … good upper body strength … great personality on the field and locker room with his teammates.
WEAKNESSES – Not much in the pass rush, Thomas was part of just four sacks in 46 games … rarely makes plays outside of the box, lacking lateral movement … tires easily and will need to get in better overall shape … needs work on fundamentals.
THE RIGHT 53? – Football matters to Thomas and he's always been willing to do the dirty work along the defensive line. Plays with a team-first attitude and has been fairly durable at a position where there's a lot of contact; he missed five games in the '07 season with a sprained ankle.
What he said – "It doesn't matter where I play. I'll play 4-3 or I'll play 3-4, it really doesn't matter. I've played both of them. I'm versatile athletically like that. I love guerilla warfare, baby. That's where you earn your stripes. I got my stripes. I can anchor that thing. Not everyone can play that position (nose tackle.)"

End game – Bodies like this do not come through the football pipeline in great abundance, so teams will take a second and third look at him when otherwise they may not. Thomas comes with some upside if he remains motivated and driven.
ON THE CHIEFS LIST? – Thomas has to be under consideration. If this guy gets into shape and controls his weight, there's a big upside for his career. He was part of a rotation system at North Carolina, so he has a lot of plays to make up compared to other inside defenders. Based on his college career, he's a third or fourth-round choice, but 3-4 teams looking for that hard to find nose tackle may jump early on him.