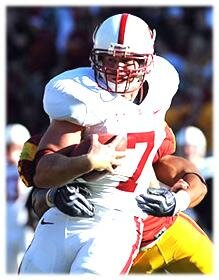 NAME – Toby Gerhart
Position – Running back/Fullback/H-back.
College – Stanford.
Status – Senior.
Size/Weight – 6-0, 231 pounds.
Important numbers – 4.5 seconds in the 40-yard dash, 22 reps on the bench press, 38-inch vertical jump, 9-feet 10-inch broad jump.
Age – 23.
Honors – Consensus All-America '09 … second in voting for the '09 Heisman Trophy, 28 points behind the winner, Alabama RB Mark Ingram … Pac-10 Conference Offensive Player of the Year '09 … Doak Walker Award winner '09.
College career – Second on Stanford's all-time rushing list, Gerhart put together back-to-back 1,000-yard+ seasons, including a school record 1,871 yards last season. His first two seasons were cut short by injuries, including a knee problem in '07 that ended his season after just one game, a 141-yard effort against San Jose State. He finished up with two seasons with 553 carries for 3,007 yards and 43 rushing TDs. Gerhart also played on the Stanford baseball team, where he was a hard-hitting center fielder who helped lead his team to the College Baseball World Series.
Stats of note – 38 games/26 starts … 671 carries for 3,522 yards and 44 TDs … 39 catches for 395 yards … one pass completion for 18 yards and a TD.
STRENGTHS – A power back with the ability to hit the hole with speed … shows good vision and quick feet to make cuts once he breaks the line of scrimmage … always falls forward when tackling, gaining extra yards … has good hands as a receiver and handles blocking well.
WEAKNESSES – There's no wiggle in his running style … despite attempting to protect the ball, he fumbled five times last season … his ability to play baseball at a high level will scare some teams when it comes to his commitment to football.
THE RIGHT 53? – Smart, dedicated, hard-working, willing to take on any challenge handed him, strong family background: is there anything wrong with this guy? Nobody has found anything yet. When you talk high character, it comes up Toby Gerhart.
What he said – "I just want that opportunity to play and to play running back and show people that I can do it. I think I'll be an asset to any team that drafts me."
End game – There are 32 teams that would love to have this guy as long as he never mentioned the word baseball. The chances of him trying to use the other game as leverage will scare some teams away. Gerhart is not the classic NFL halfback, but put him in a running game by committee and he could be very effective as a runner, receiver and blocker.
ON THE CHIEFS LIST? – Pioli and Haley would love to have this guy, but right now there's no place that he fits with Jamaal Charles and Thomas Jones in the backfield.