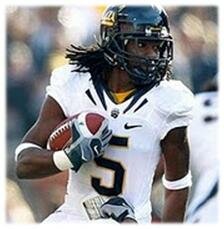 NAME – Syd'Quan Thompson
Position – Cornerback.
College – California-Berkley.
Status – Redshirt senior.
Size/Weight – 5-9 ¼, 186 pounds.
Important numbers –4.62 seconds in the 40-yard dash, 33-inch vertical jump, 9-foot 9-inch broad jump.
Age – 23.
Honors – First-team All-Pac 10 in '08 and '09 … named Cal's most valuable freshman in '06.
College career – After serving a redshirt season, Thompson jumped into the starting lineup in '06 and never left the field in 52 games. He played his first game with a cast on a broken wrist but still contributed. His big year came in '08 when he had four interceptions, two sacks, a 12.3-yard average on punt returns, including one he took back 73 yards for a score.
Stats of note – 52 games and starts, 257 total tackles, 7 INTs, 36 passes broken up, 36 punt returns for 389 yards and a TD.
STRENGTHS – Thompson is not afraid of contact, as evidence by his tackle totals over four years … with good speed and athletic ability, he always seems to be around the ball … explosive when he gets his hands on the ball whether with an INT or a return.
WEAKNESSES – He has just average to below average size and big receivers will give him trouble … plays sometimes with too much aggression and gets in bad positions on the field … can he run with NFL receivers is a question scouts have.
THE RIGHT 53? – When it comes to a coach's favorite ability – availability – Thompson would be on any team's list for consideration. That he never missed a start tells us something about what makes the guy tick.
What he said – "I'm the most complete player. I'm tougher, I'm smarter. I'll do anything to make the team successful."

End game – Thompson's size will keep him around until late in the second or in the third round. He will help some team immediately on special teams, but everyone will wonder how much upside their might be with him.
ON THE CHIEFS LIST? – His durability and activity in four seasons at Cal would put him on the consideration list, but it's hard to see how he would fit any time before the third or fourth round.