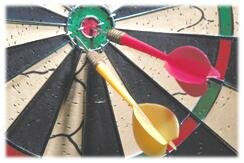 There are 14 days until the first round of the 2010 NFL Draft. Seems like a good enough time to guess, conjecture, dissect and throw darts to divine the name of the Chiefs No. 1 draft choice.
Understand that no magic information has slipped under the door at the Truman Sports Complex to reveal their interest. No puffs of smoke, black or white. Various players have come to Kansas City to meet with the club. Team officials have headed out around the country to meet with players on their home turf. What it all means is unknown at this point. These assignations could be evidence of interest on the part of the Chiefs, or could be smokescreens to shield the true objects of their football desires.
We sit on the periphery of the media world so like our bigger brothers in the print, television and yakkers world, we are not going to allow facts or in this case non-facts to clutter up our story. That's a long sentence to say we are guessing on the No. 5 choice.
Here's what I think can be established at this point: QB Sam Bradford, DT Ndamukong Suh and OT Russell Okung will not be available when the Chiefs turn to draft in the first round begins. Bradford will go either No. 1 to St. Louis or No. 4 to Washington or a team the Redskins trade with. Suh will go No. 1, No. 2 to Detroit or No. 3 to Tampa Bay. Okung figures to be drafted at No. 2 or No. 4.
One other player will also be off the board and thus unavailable to the Chiefs.
Right now, I think these are the players that Pioli/Haley will consider with the start of their time on the clock:
DT Gerald McCoy
S Eric Berry
ILB Rolando McClain (right)
WR Dez Bryant
OT Bryan Bulaga
CB Joe Haden
QB Jimmy Clausen
RB C.J. Spiller
McCoy is either the No. 1 or 2 defensive linemen in this year's class. Berry is the No. 1 safety, McClain the No. 1 inside backer, Haden the first cornerback, Bryant the first wide receiver and Spiller is the first running back. Clausen is the No. 2 quarterback and Bulaga is the second offensive lineman.
Here are the possible scenarios involving each player and the early odds of selection at the Gretz Sports Book/Gas Station/Poker Parlor, located in an unincorporated area of Miami, Oklahoma:
G. MCCOY/10-1 – It's hard to wrap our hands around the chances the choice would be the big tackle from Oklahoma. That would make three straight years where a top five choice was used by the Chiefs on a defensive lineman. Pioli/Haley are old school types and believe in the importance of the big guys on the line of scrimmage. But drafting McCoy wouldn't make much sense given the other holes on the roster.
BERRY/4-1 – Every Chiefs fan that follows the draft has heard about the Peter King story that indicates Pioli would not use the fifth choice on a safety. For those that missed, here's a link. Should we read anything into this story? No. If the Chiefs decide Berry is worthy and the best player available, not selecting him would invalidate everything Pioli has said since he was hired by Clark Hunt.
MCCLAIN/3-1 – Most of the draftniks do not have McClain rated among the top five players. That's inconsequential to this discussion. Remember, Tyson Jackson wasn't on anybody's radar screen at the top of the 2009 NFL Draft. Whether one thinks the Chiefs reached for the LSU defensive end also doesn't matter. McClain is the best linebacker in this year's draft. He comes out of the Alabama program with Nick Saban, a friend of Pioli. If they like him, they will draft him.
BRYANT/100-1 – The Chiefs need help at wide receiver. They don't need the type of baggage that comes with Bryant.
BULAGA/8-1 – Offensive line talent is a must, no question. Bulaga has played for Kirk Ferentz, and there's been plenty of notice about the Iowa head coach and Pioli being buddies from their days working together under Bill Belichick with Cleveland.
HADEN/50-1 – Cornerback is not the position of greatest need for the Chiefs and Haden is not one of those once in a generation cornerbacks that a team can't pass up. There's a possibility only because of one thing: an NFL team can never have too many good corners.
CLAUSEN/50-1 – It would be a surprise if there wasn't interest in the Notre Dame quarterback by the Chiefs. But they have a QB they've committed too in Matt Cassel and there are many more spots on the offense and defense that need help.
SPILLER/100-1 – This is the type of guy the Chiefs – or any team – could use in their offense and special teams. With Jamaal Charles having his breakout season in '09, it's hard to believe they would go for Spiller in the first round.
And there are two more possibilities:
NONE OF THE ABOVE/7-1 – Hey, I learned my lesson last year with Jackson.
TRADE DOWN/40-1 – It's quite hard for teams to trade out of the top five in any given Draft. In the last decade, only seven of the 50 choices changed hands, and only two in the last eight years. The New York Jets were involved in both trades, moving up to 2003 to No. 4 so they could select DL Dewayne Robertson and then to No. 5 last season so they could draft QB Mark Sanchez. The Jets do not have the ammunition to move up this year; they sit at No. 29 in the first round, with No. 61 in the second round, with no third-round selection. Right now the best chance would be if some team decides they want Clausen and are worried that he won't get to their spot later in the top 10 or top 15.
That's our odds today. We'll update next week after seven more days of rumors and non-facts. Enjoy!
GEORGIA DISTRICT ATTORNEY FACES DECISION ON BIG BEN

The police in Milledgeville, Georgia and the state's bureau of investigations turned over the information from their probe of a possible sexual assault involving Steelers QB Ben Roethlisberger to the district attorney.
Frederic Bright is the Ocmulgee Judicial Court D.A. and he will review the findings and decide what happens next. Bright can (1.) investigate more, (2.) dismiss the whole thing and say there is no evidence of a crime, (3.) immediately file charges or (4.) take the case to a grand jury which would likely mean Roethlisberger would be indicted on some sort of charge.
The investigation began last month when a student at Georgia College and State University told police Roethlisberger sexually assaulted her inside the Capital City nightclub. Authorities have been vague about specific accusations, but Roethlisberger has denied doing anything wrong through his Atlanta-based attorney. He also has refused to meet with the investigators.
If Bright goes to a grand jury, it could be months before there's a charge handed down. Right now, the Steelers and Roethlisberger are seeking a quick settlement so the quarterback can get on with his off-season work. So far, he's stayed away from the Steelers program.
LEAGUE PERSONNEL UPDATE FOR WEDNESDAY, APRIL 7

BENGALS – ERFA C Kyle Cook signed.
BILLS – signed RB Walter Mendenhall.
COWBOYS – RFA OL Pat McQuistan signed tender offer.
EAGLES – RFA OL Nick Cole signed tender offer.
SAINTS – signed DE Alex Brown (Bears).
SEAHAWKS – released TE John Owens.
TEXANS – RFA RB Ryan Moats signed tender offer.