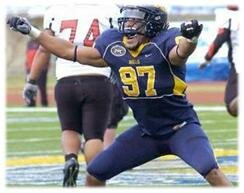 NAME – Austen Lane
Position – Defensive end/Outside linebacker.
College – Murray State.
Status – Senior.
Size/Weight – 6-5¾, 276 pounds.
Important numbers – 4.84 seconds in the 40-yard dash, 34.5-inch vertical jump, 10-feet 5-inch broad jump.
Age – 22.
Honors – Ohio Valley Conference Defensive Player of the Year … first-team All-OVC in '08-'09 … finalist for Buck Buchanan Award, given to Division I-AA defensive player of the year.
College career – Coming out of Iola, Wisconsin, Lane was not highly recruited, receiving attention from schools like Minnesota State, Minnesota Duluth and Division II schools. He made an official visit to UMass, but ended up at Murray. Lane contributed immediately, getting his first college sack as a freshman. His victim? Missouri QB Chase Daniel. He worked his way up to the OVC's defensive player of the year. Lane had 23 sacks over the last two seasons.
Stats of note –43 games, 202 total tackles, 53.5 tackles for loss, 29 sacks,
STRENGTHS – A remarkable athlete that is very quick on his feet, he can play sideline-to-sideline, rare for someone his size … comes off the ball quickly, especially on pass rush … has more than one move in rushing the QB … has long arms and with his speed, he makes a lot of tackles.
WEAKNESSES – Lane needs time in an NFL weight room because he lacks upper body strength … he sometimes struggles to disengage from blockers in the running game … sometimes plays too aggressively and gets out of position.
THE RIGHT 53? Just read what Lane has to say below. His words have been backed by his actions: passion, hard work, team-first, aggressive and especially "the need to prove myself each day." Also remember this: Scott Pioli spent two years at Murray State; in fact it was his last job in college football.
What he said – "I have a passion for the game. This is my life. I have a hard work-ethic, I'm a team first guy, I'm aggressive. I might be laid back off the field – I won't be causing any scenes – but when I step in between the white lines, I'm a completely different player. I feel the need to prove myself each day."
End game – There is plenty of tape of this young man playing different spots in a variety of defenses, and he's dropped in coverage, played the run and chased the quarterback. If his career had come at a major college, he'd likely be a top half of the first round choice. As it is, he's likely a late second, early third-round pick.
ON THE CHIEFS LIST? – Lane has the type of skills the Chiefs seek on the edge of their defense. He may be a bit of a project because of his lack of big-time college competition, but there's a spot for him with the Chiefs if he's available in the third or fourth round.