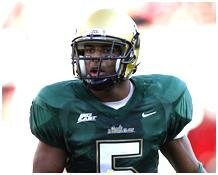 NAME – Nate Allen
Position – Free safety.
College – South Florida.
Status – Senior, graduated in December '09 with degree in communications.
Size/Weight – 6-0½, 207 pounds.
Important numbers – 16 reps on bench press, 34.5-inch vertical jump, 9-feet 6-inch broad jump (he's yet to run 40-yard dash for NFL teams because of a left quad injury.)
Age – 22.
Honors – Second-team All-Big East defense '09.
College career – After a freshman season spent largely on special teams, Allen started the next 39 games at South Florida, where he had strong sophomore and senior seasons, and a not so good junior year. He earned the nickname "The Golden Child" from teammates because he was seldom reprimanded by coaches.
Stats of note – 48 games/39 starts … 224 total tackles, 5 tackles for loss, 1 sack … 9 INTs, 12 passes broken up … 4 fumbles recovered, 2 forced fumbles … 2 catches for 27 yards and a TD … 3 TDs total.
STRENGTHS – Smooth and gifted athlete … he has good speed and excellent range at the back of the defense … he's got good ball skills and goes after the hanging pass … physical and willing to come up and force the run … high football IQ and gets to where he needs to be … solid, consistent tackler.
WEAKNESSES – He's not a big hitter and is not on the high end of the speed charts … is inconsistent on his angles when he goes after the ball carrier … does not match up well with wide receivers, especially when they line up in the slot.
THE RIGHT 53? – He was a very good student at USF and has shown he's dedicated to improving himself both mentally and physically. Coaches said it was like having a coach on the field, as Allen worked the defense and got players lined up in the right spots.
What he said – "I'm not perfect, but It feels good to know that the guys know I want to do everything right, on and off the field."

End game – A solid second-round prospect that will go high or low in the round depending on whether he can run the 40-yard dash before next Friday night's second round of selections. Some scouts feel Allen is as good as he'll ever be, without much of an upside.
ON THE CHIEFS LIST? – Yes, and he's visited with them in Kansas City. Should they choose to pass on Eric Berry in the first round, they will be looking for safeties with those two second-round choices. Allen could fit right there.