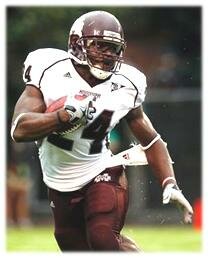 NAME – Anthony Dixon
Position – Running back.
College – Mississippi State.
Status – Senior.
Size/Weight – 6-0¾, 233 pounds.
Important numbers – 4.67 seconds in 40-yard dash, 15 reps on bench press, 33-inch vertical jump, 10-foot 1-inch broad jump.
Age – 22, will turn 23 in late September.
Honors – First-team All-SEC offense '09 … Mississippi State's all-time leading rusher.
College career – Dixon had a big sophomore season, rushing for 1,066 yards and 14 touchdowns on the ground and closed out his career in Starkville with 1,391 yards and 12 rushing TDs in '09. Overall, he showed himself to be a big, powerful back who can catch the ball.
Stats of note – 49 games/40 starts … 910 carries for 3,994 yards and 42 TDs … 56 catches for 449 yards and 4 TDs … fumbled 14 times, losing nine.
STRENGTHS – Big, strong, powerful running back, with a nice burst and good balance … he's got some wiggle in his hips when he breaks into the second level … handles catching the ball and blocking effectively … can handle a lot of carries … tough, playing through almost all of his injuries.
WEAKNESSES – Speed is average for a running back, but hasn't shown blocking ability to move to fullback … he's not a home run hitter with the ball … does not have the speed to get to the corner … there are off-field concerns and his work ethic has been questioned.
THE RIGHT 53? – In July '09, police officers found Dixon intoxicated in his car, with two empty champagne bottles on the floorboard. He declined to take a field sobriety test or a breathalyzer according to the police report. Now, a college student pulled over for DUI after drinking a six-pack of Keystone Light is a problem, but not unusual. But, DUI thanks to a pair of champagne bottles? There are serious questions among NFL teams about Dixon and his character that go beyond the DUI arrest. Several times in his career he's shown up for the Mississippi State pre-season camp seriously out of shape.
What he said – "I really think I am the total package, a complete player. I can run the ball pretty well, I can catch if they need me to, and I can block pretty good. I want them to see that I want to work hard."
End game – Without good speed and with questions about his character, Dixon looks like a third or fourth-round selection. If he's matured and shows himself dedicated to the job, some team might get quite a steal. Boom or bust pick here.
ON THE CHIEFS LIST? – Given Dixon's issues, I can't imagine why he would be on the Chiefs board.