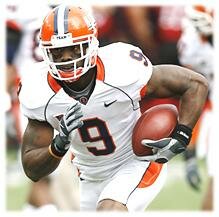 NAME – Arrelious Benn
Position – Wide receiver.
College – Illinois.
Status – Junior.
Size/Weight – 6-0 7/8, 219 pounds.
Important numbers – 4.42 seconds in 40-yard dash, 20 reps on bench press, 37.5-inch vertical jump, 10-foot 1-inch broad jump.
Age – 21, he will turn 22 in September.
Honors – First-team All-Big 10 offense '07, '08 … honorable mention All-Big 10 offense '09 … team captain '08, '09 … selected Illini MVP '08 … unanimous selection as Big 10 Freshman of the Year '07.
College career – One of the most sought after schoolboy receivers coming out of Dunbar H.S. in Washington. He had an immediate impact, starting all 13 games during his freshman season in '07. Before he was done, Benn put up 3,613 all-purpose yards, but only 11 TDs. He leaves the Illini with a year of eligibility remaining.
Stats of note – 37 games/35 starts … 159 catches for 2,221 yards and 7 TDs … 62 carries for 282 yards and 3 TDs … 42 kickoff returns for an average of 23.7 yards and a TD … 15 punt returns for a 7.6-yard average.
STRENGTHS – Strong upper-body and uses his strength to get away from coverage … has very good agility and is able to adjust to poor throws … he's able to find open spots in zone coverage and is sideline aware … strong runner after the catch … good blocker.
WEAKNESSES – While he has good speed, he's not especially quick … although he's shown good hands he allows too many balls to get to his body. That will have to change … not especially adept at running routes.
THE RIGHT 53? – This guy is tough; he suffered a dislocated shoulder in a pre-season scrimmage during his freshman season and played in every game, even when he twice displaced it during games. He had surgery after the season. Also suffered a concussion and did not miss a game. Now that's tough and available.
What he said – "(I'm) someone who is going to put on a hard hat when it's time to go to work. Most of all, a guy who has great character off the field and someone who is going to take the game seriously, respect it, and have great impact on the field."

End game – In three years with the Illini, Benn racked up over 50 catches and 700 yards per season, but had just seven TD catches. In a draft that's not especially deep in talented wide receivers, Benn will get some late first-round consideration.
ON THE CHIEFS LIST? – Physically gifted guy, who can also work as a returner, Benn will get consideration from the Chiefs. He seems to be of high character and he's proven his toughness with injuries. He should be a consideration in the second round.