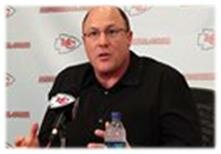 From the Truman Sports Complex

Scott Pioli talked for 36 minutes Friday morning. From that conversation with the local media horde we can draw this definite information:
The Chiefs will draft somebody next week.
That's it. Anyone who thought they would get more was sadly disappointed. Expecting Pioli to show his hand on a warm June day is unrealistic; it's silliness to think he's going to flash his cards a week before the 2010 NFL Draft.
In all fairness to Pioli, that makes him no different than 31 other GMs and Player Personnel Directors who are preparing to bring 255 players into the NFL.
And actually, Pioli did provide some insight into the way he approaches the business of finding players. When the Chiefs get ready to make their first selection in this year's Draft, they will have "north of 100″ players on their board for consideration. That's down from the "thousands" that were on the radar screen 12 to 14 months ago.
That unworkable number was sliced and diced to several hundred and then cut more as Pioli and his personnel department continued their investigations and evaluations. Generally, that leaves "100 to 125″ names for actual draft consideration.
Within that final number the bulk of players are those that fit the mantle of "the right 53″ that Pioli and Todd Haley have preached for the last 15 months.
They will consider all positions with the first choice, and three of the top 50 and eight of the top 144 selections. All, but one that is at No. 5.
"Other than kicker, I think I would leave that position alone at No. 5," said Pioli. "It's a broader question that comes down to economics. What we are concerned about at five, is finding a good player that is the right player. There's the economic question that has to do with what the general salaries are for players at different positions … So the type of person and the person that you're picking at that spot is exceedingly important."
The subject came up because Peter King of SI.com reported a conversation that Pioli had with Thomas Dimitroff about Tennessee safety Eric Berry and whether he would be the Chiefs first-round choice. Dimitroff quoted Pioli as generally being against drafting a safety that high in the first round.
Pioli's comments indicate it's not about position as much as the individual player and the resources already allocated on the roster. When it comes to the secondary, the Chiefs do not have a lot of money invested at that position group right now. They do have a lot of money invested along the defensive line, with high draft choices like Glenn Dorsey, Tyson Jackson and Alex Magee. That would indicate a safety would be considered in the first round, while a defensive linemen would not.
On whether the Chiefs will seek to trade down and out of the fifth pick, Pioli said his phone is always on and he's prepared to take calls.
"In terms of trades, we are open for business," said Pioli. "The important thing to remember about trades is that I may have all the desire in the world to trade up or back, but if I don't have a trade partner it doesn't matter. From a preparation standpoint, you have to be ready for something that may or may not happen."