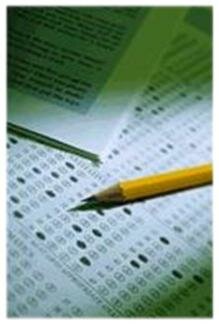 Consider the possibilities – would you rather be San Francisco 49ers quarterback Alex Smith or Hall of Fame passer Dan Marino? If you could trade places with these two NFL quarterbacks who played with the Buffalo Bills, would you pick Ryan Fitzpatrick or Hall of Fame QB Jim Kelly?
Say you want to replay your football career as a college quarterback in the state of Virginia. Would you pick Marques Hagans of the University of Virginia, or would you rather be Virginia Tech's Michael Vick, without all the pit bull baggage?
By most measures, there is little doubt that trading places with the likes of Marino, Kelly and Vick, would be preferable to living the football life of Smith, Fitzpatrick or Hagans. But not by every measure, especially not by one important element in the evaluation process.
The Wonderlic Test is a 12-minute, 50-question exercise that is given to potential NFL draft picks each year. It has become famous at this time of year as the Wonderlic results leak out.
Smith scored a 40 on the Wonderlic before the 2006 NFL Draft; back in 1983, Marino's score was just 15. Coming out of Harvard, Fitzpatrick hit 48 in the test; Kelly was a 15. Hagans – remember he was with the Chiefs early in the 2008 season as a wide receiver – scored 37; Vick hit for a 20 on the Wonderlic.
Sometimes the results of a Wonderlic Test are just as confusing as taking the test. It's one reason why some teams have chosen to diminish the importance of the score, whether high or low.
"The Wonderlic does not tell us about a player's football intelligence," said former Chiefs President-GM Carl Peterson, who in over 30 years of evaluating potential players saw a lot of Wonderlic scores. "The player's score is just an indication of a player's ability to read and comprehend what he has just read."
That's the rub with the Wonderlic – the score has become synonymous with intelligence. When taken out of context and without the whole picture of the player and person, it unfairly labels players. A score of 21 is considered average. When Tim Tebow's score of 22 surfaced several weeks ago, it was reported with headlines like Tebow Fails NFL Wonderlic Test and Test Score Hurts Tebow's Draft Position.
Tebow's 22 was not a failing score and it did not hurt his position in the eyes of the NFL.
"Are you kidding," said a current personnel director. "Have you talked with the kid? Have you met him? This guy is pretty darn smart."
The Wonderlic does not measure intelligence, but rather the capacity to learn. This distinction is key for teams that are trying to figure out how a player will learn and how they will adapt to the NFL.
"Scores in the single digits were a concern and meant that if you had an interest in drafting that player, you and your position coach needed to spend time with the player in an interview," said Peterson. "Some players can verbalize better than their Wonderlic scores. Large, thick playbooks can be intimidating to players who have a reading problem.
"The Wonderlic can usually indicate if a player has a reading problem, but how severe takes more research."
The test was developed by Eldon F. Wonderlic (yes, that's really his name! That's him on the right), and he began distributing the test in 1937. The Cowboys under Tom Landry were the first NFL team to use the test and eventually it grew into something that's used each year at the NFL Combine
OK, so what's the fuss about? Here are four sample questions from Wonderlic, which every year changes the 50 questions that are asked of potential NFL players and folks in other professions who also take the test:
—

1. Assume the first 2 statements are true. Is the final one: true, false or not certain? The boy plays baseball. All baseball players wear hats. The boy wears a hat.
2. Paper sells for 21 cents per pad. What will 4 pads cost?
3. How many of the five pairs of items listed below are exact duplicates?
Nieman, K.M.     Neiman, K.M.
Thomas, G.K.     Thomas, C.K.
Hoff, J.P.              Hoff, J.P.
Pino, L.R.            Pina, L.R.
Warner, T.S.      Wanner, T.S.
4. A boy is 17 years old and his sister is twice as old. When the boy is 23 years old, what will be the age of his sister?
—

The answers are below, but it's not hard to see that the test is more about carefully reading the questions and understanding what is being asked. Comprehension and critical thinking are all parts of being intelligent, so there's no question that the Wonderlic provides a view into what's going on inside the head of a player.
But it doesn't mean a player, or especially a quarterback will always do the correct thing. If it did, then Smith, Fitzpatrick and Hagans would be superstars. Quarterbacks are generally not the highest scoring position in the Wonderlic. Here's how the average scores break down:
Offensive tackles: 26
Centers: 25
Quarterbacks: 24
Guards: 23
Tight Ends: 22
Safeties: 19
Middle linebackers: 19
Cornerbacks: 18
Wide receivers: 17
Fullbacks: 17
Halfbacks: 16
NFL urban legend has it that the highest score in the Wonderlic was registered by former Cincinnati tight end Pat McInally, who scored a perfect 50. Reportedly the lowest score was a four, registered by former Iowa State RB Darren Davis. But there have always been stories that have floated around the league that a certain Hall of Fame running back had a score of one
If a player's test score was never known, it would mean nothing in evaluation of his ability to play in the NFL. But when it becomes public information, sometimes perception overtakes reality in the importance of the number. That happened when Vince Young came into the league and had an initial test score of six in the Wonderlic. When that information became public, Young was given another chance to take the test and this time his score reached 15.
Part of the problem is that all the test scores don't come out; it's usually just the big name-big position players. Here are some of the numbers that have become public for the class of 2010, topped by Minnesota WR Eric Decker, who finished with a 43 score. Oklahoma QB Sam Bradford registered a 36 and Georgia Tech WR Demaryius Thomas put up a 34. Stanford RB Toby Gearhart finished with a 30.
Other results were: Southern Cal S Taylor Mays 22, California RB Jahvid Best 24, Notre Dame WR Golden Tate 29, Notre Dame QB Jimmy Clausen 23, Texas QB Colt McCoy 25, Clemson WR Jacoby Ford 28, Tennessee RB Montario Hardesty 25, Clemson RB C.J. Spiller 10, Oklahoma State WR Dez Bryant 16, Cincinnati WR Mardy Gilyard 17, Illinois WR Arrelious Benn 11, Oregon RB LaGarrette Blount 16 and Mississippi WR/RB Dexter McCluster 18.
Like so many other items that crack our consciousness in the lead up to the NFL Draft, take the Wonderlic numbers as just another part of the equation, rather than a decision maker.
"A low score tells you that there's work to do with that player when he arrives," said Peterson. "If he has talent and ability, the job of the front-office and coaching staff is to allow him to contribute and thrive."
WONDERLIC ANSWERS

1. True.
2. 84 cents.
3. 1, J.P. Hoff.
4. 40 years old.
SAVE FOR SUMMERTIME USE: CHIEFS PRE-SEASON SCHEDULE
The Chiefs announced their schedule dates for the 2010 pre-season on Thursday. Here's how it breaks down for your late summer football viewing:
Friday, August 13 @ Atlanta, 7 p.m.
Saturday, August 21 @ Tampa Bay, 6:30 p.m.
Friday, August 27 Philadelphia, 7 p.m.
Thursday, September 2 Green Bay, 7 p.m.
LEAGUE PERSONNEL UPDATE FOR THURSDAY, APRIL 8
BILLS – RFA TE Derek Schouman signed tender offer.
BROWNS – signed UFA C Eric Ghiaciuc (Chargers).
COWBOYS – RFA DE Jason Hatcher signed tender offer; RFA DT Junior Siavii signed tender offer.
LIONS – RFA S Ko Simpson signed tender offer.
RAVENS – promoted Al Saunders to senior offensive consultant.
STEELERS – re-signed UFA DE Nick Eason.