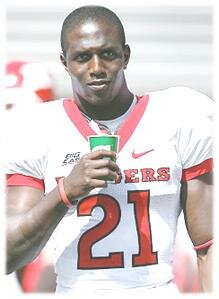 NAME – Devin McCourty
Position – Cornerback.
College – Rutgers.
Status – Red-shirt senior.
Size/Weight – 5-10¾ , 193 pounds.
Important numbers – 4.48 seconds in 40-yard dash, 16 reps on bench press, 36-inch vertical jump, 10-feet 6-inch broad jump.
Age – 23 in August.
Honors – First-team All-Big East defense '09 … Rutgers team captain '09 … Rutgers MVP on defense and special teams '09 … semi-finalist for Draddy Trophy, the academic Heisman.
College career – McCourty had a solid, sometimes spectacular stay at Rutgers, where he was part of a very successful program. In the last four years the Scarlet Knights played and won consecutive bowl games and finished with at least 9 victories each season. McCourty played three seasons with his twin brother Jason, a 6th-round choice last year of the Tennessee Titans. A three-year starter on the corner, he was also a special teams standout and finished his career with seven blocked kicks.
Stats of note – 52 games/37 starts … 238 total tackles, 4.5 tackles for loss, 1 sack … 6 INTs, 27 passes broken up … 3 recovered fumbles, 1 forced fumble … 7 blocked kicks, 5 punt returns for a 20-yard average, 15 kick returns for a 23.8 average with one TD return of 98 yards.
STRENGTHS – Top of the draft type athletic ability, with great speed and quickness … reliable tackler, who will support on the run … has good football instincts … special teams standout in returns, blocked kicks and coverage … leader, with top notch work ethic.
WEAKNESSES – McCourty's play can be inconsistent at times … had only six interceptions in 52 games, so there are questions about his hands and ball skills … on the small side and has struggled with big receivers.
THE RIGHT 53? – Athletic, reliable, smart (3.3 GPA), available, comes from winning program, leadership: what doesn't this guy have to contribute to any NFL team.
What he said – "There's something about special teams in that you can just go hard, right at the guy in front of you, come hard on a punt block and it really stands out in a game. In the NFL, you can watch a guy who might not play a snap on defense but he can make a huge play on special teams and affect a game."

End game – There are some teams that have McCourty rated as the top CB in the draft, others are troubled a bit by his inconsistency and his lack of INTs over a four-year career with a lot of defensive snaps. If he lasts until the second round, it will be a surprise.
ON THE CHIEFS LIST? – I'll be he is, but their chances of getting him are slim. They won't grab him at No. 5 in the first round and his chances of still being there in the second round aren't good. CB is not a position of need, but this guy can help in so many ways it would be tough for a building team to pass on him.