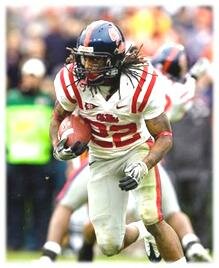 NAME – Dexter McCluster
Position – Wide receiver/Running back.
College – Mississippi.
Status – Senior.
Size/Weight – 5-8¾, 172 pounds.
Important numbers – 4.53 seconds in 40-yard dash, 20 reps on bench press, 37.5-inch vertical, 9-foot 10-inch broad jump.
Age – 22 in August.
Honors – First-team All-SEC all-purpose runner '09 … second-team All-SEC running back '08-'09 … third-team All-America '08 … offensive MVP of Cotton Bowl '09.
College career – McCluster arrived at Ole Miss as one of the most successful schoolboy RBs in Florida. But because of his size, he was moved to WR and that's essentially what he was until the last two seasons, when he was a combination RB and WR. In the last two seasons in 26 games, he ran for 1,824 yards and caught passes for 1,145 yards. He became one of the most dynamic offensive forces in the SEC.
Stats of note – 40 games/28 starts … 130 catches for 1,703 yards and 7 TDs … 304 carries for 1,955 yards and 15 TDs … 1 of 6 passing for 27 yards, 2 INTs, 1 TD … 8 punt returns for 57 yards; 19 kickoffs for 374 yards.
STRENGTHS – Other than size, there isn't much McCluster wasn't gifted with when it comes to athletic skill … explosive, fast, quick, with great agility … excellent vision when he has the ball in his soft hands … great work ethic and he's a great competitor.
WEAKNESSES – Despite his accomplishments, there's no denying his lack of size … has small hands and he's had fumbling problems … not an every down player … concerns about his availability due to injuries, as he's had several … does not have much experience as a returner.
THE RIGHT 53? – When it comes to intangibles, McCluster has plenty in his toughness and leadership ability. His versatility is attractive as well, as he can play running back, receiver and even quarterback on Wildcat type plays.
What he said (on whether he's a running back or a wide receiver) – "I've done both of them. I feel comfortable at both of them. At running back I get the ball early and make decisions a little quicker. At receiver, I've got good hands and great stop and speed. The ability to [create] mismatches and create separation.
End game – Creative offensive minds in the league would love to get their hands on a weapon like McCluster. Teams will have to be aware that he's not a full-time player as a RB or WR. Should be a second-round pick, but may last into the early third round.
ON THE CHIEFS LIST? – Offensive minds Todd Haley and Charlie Weis would love to have at their disposal a multi-purpose offensive threat like McCluster. But right now, that might be a luxury given the need for players across the roster. Plus, questions about his durability have to be taken into account. He should be given consideration starting in the third round, no earlier.