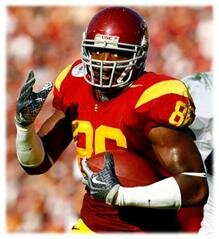 NAME – Anthony McCoy
Position – Tight end.
College – Southern Cal.
Status – Senior.
Size/Weight – 6-4½, 259 pounds.
Important numbers – 4.71 seconds in 40-yard dash, 19 reps in bench press, 35.5-inch vertical jump, 9-feet 5-inch broad jump.
Age – 22.
Honors – Honorable-mention All-Pac 10 offense '08.
College career – Inconsistent career with the Trojans, making his mark primarily as blocking tight end, McCoy put up a dazzling 20.8-yard average per catch in the '09 season. That was on 22 receptions. His big game was against Notre Dame, with five catches for 153 yards. The Fresno native had 46 career catches but only three scores. He was suspended twice for academic reasons, including missing the '09 Emerald Bowl.
Stats of note – 40 games … 46 catches, 731 yards and 3 TDs.
STRENGTHS – Very athletic, with a large body and long arms … he has huge hands (10 3/8 inches), but they are soft and he's a reliable catcher of the ball … runs hard after the catch and is tough to bring down … runs good routes … tough guy.
WEAKNESSES – Average speed and quickness … slow getting off the line at the snap … won't beat anyone deep on the run … amidst all the offensive weapons, he was sometimes forgotten; did not stand out … missed time with ankle and hamstring injuries.
THE RIGHT 53? – McCoy's failure to handle his academics has to be a concern, especially at the end of the'09 season when he was suspended for the Emerald Bowl. It's one thing to not go to class, it's another to let down the entire team by not being available. He's considered a hard worker and a tough player.
What he said - "I see myself as just me. I don't like to pattern myself after anybody else. I bring a different thing to the game. I feel like I can do similar things that tight ends like Tony Gonzalez and Antonio Gates do. I don't like to compare myself to them. I'd like to be better than them."
End game – Teams that see that 20.8-yard average in '09 and don't delve deeper into the numbers will be excited. McCoy is an athletic blocker, who could develop into something more. But he's certainly not there as a receiver. He's a second-third round prospect.
ON THE CHIEFS LIST? – The big body and his athletic ability are attractive, but it's hard to see how he would fit the right 53 with his various suspensions for academics. That sort of irresponsibility is not something the Chiefs would seem to be looking for in a draft choice.