Tick, tick, tick goes the draft clock with the first round coming up this Thursday.
That generates a lot of talk around the league, and we are checking in on some of the decision makers and what they are willing to say about their teams, their plans and the players in the draft pool. Here's part No. 2. If you missed part No. 1, here's the link.
BILL BELICHICK/HEAD COACH NEW ENGLAND PATRIOTS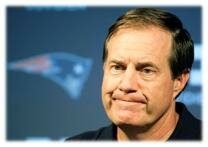 What are his thoughts on this year's class of players available to draft?

"I think there's pretty good depth at a number of positions. Some we haven't seen as much of in recent years – less at some positions where we've seen more of in recent years, so I think that's kind of evened out a little bit. There are a lot of medical questions about players particularly at the top of the draft or players in some cases that I'm sure will be drafted high that didn't even play football last year. I think that's a little bit unusual to have probably the number of players that will be first round players, high second round players – whatever it will be – that were out of football a year ago. I think that part of it is a little bit unusual. There are a lot of interesting guys and with all the early declaring players I think in a number of cases you are going to have to look at those players and try to see where they're going to be a year from now or four years from now. What kind of improvement, what kind of jumps they are going to make relative to where they are against other players that had the extra year. That's always the case. It's just more of them this year."
Where is your concentration in terms of deciding where to draft? Is the emphasis on the player you think you need or is the emphasis on the best value when your number comes up?

"I think it's a combination. It starts with value and you value the players, however you put a grade on them – you value them. And then within that there's a draft strategy, maybe where you think that players going to go in the draft, what the league thinks of him relative to what your individual team thinks of him and needs can factor into that, too, or maybe the compilation of your roster. I shouldn't necessarily say need, but a player that you see having a bigger impact on your team because of whatever the circumstances are on your team versus another one who may, for the same value, for lack of a better word, duplicate something that you already have and maybe make it less valuable for your team at that particular point in time. When we value the players, we value them on a generic basis, if we were starting a franchise, not who do we have playing here? So we're not grading players based on what the quality of player we have is at a position, but in terms of – is this guy a starter in the league? Is he an immediate starter in the league? Is he a backup? Is he a multi-position backup? Is he a practice squad player? Is he a player that will compete to make the practice squad?"
Do you have a general philosophy about drafting a punter?

"No. I think any player is worth drafting for your football team – punter, kickers, long snapper, quarterback, receiver, whatever it is. If the value's there…The thing about those players is you can only have one of them. It's not like drafting a running back, where you can have three, four, five running backs on your team. You can only have one long snapper, one punter, one kicker. When you draft a player you have to feel that that player has a pretty good chance to make your team. Otherwise, what's the point? That's not to say every guy will, but that's the intent. We've drafted a kicker. We've drafted a snapper. Would we draft a punter? If we felt that was the right choice, absolutely."
When you are evaluating a linebacker, is there a certain size that you find is more effective?

Absolutely. We have a standard for every position – height, weight and speed. And other measurables that are standard for every position – arm length and things like that. Twenty-times on linemen or whatever it happens to be on that position and so there's a standard. Some players exceed that standard, some players fall below it. It doesn't say that players that don't meet that standard aren't good players. Barry Sanders was short for a running back. I don't think there're any complaints about the way Barry Sanders played. I think when you draft a player like that you just understand that you are drafting a player that is shorter than average for his position or he's slower than average for his position or he has longer arms than average for his position – whatever it happens to be. In the end, that's not the final grade on the player, but it's just something you recognize when you take a player.
MIKE HOLMGREN/PRESIDENT CLEVELAND BROWNS

His thoughts on Notre Dame QB Jimmy Clausen, who visited Cleveland last week.

"I like him. He is a good football player. He can play the position. I think during the course of the year, as we found out, he was playing hurt for a good portion of the year. That tells you something about a player, certainly. I always like to meet any of the players up front, close and personal. It helps me with part of the evaluation process. His interview time with us, I thought, went really well. He is what he is, what you see on film. He is a fine player."
Do the Browns need to draft a quarterback with a high choice?

"I stated in years past I've always liked to do that. Whether you take a quarterback high or whether you take a quarterback late and then develop him. As we look at this and trying to analyze the draft. There are no guarantees that way in this draft. I am backtracking slightly, but it could happen. I think what I said before is that I would like to do that each year. I would still like to do it, but I am not sure it's going to happen quite honestly. I think as we look at it, there are some people that we like very much but we don't think we're in a position to get them. I think they are going to be gone. You couple that with the fact that there are other needs on the football team. I don't think we are in panic mode at the quarterback position right now this year. We can play the game. We have to be smart on how we do that. That's a long answer, but the quarterback situation is going to be very interesting in this year's draft. I guess I am saying, I am backtracking a little bit, while I would like to do it, I am not sure we will do it this year."
His thoughts on whether Sam Bradford is the best QB in the class?

"One man's opinion, I think he is. I think he is, but you can get varying opinions. My old quarterback Trent Dilfer really disagrees with me on this. In my opinion, he had a marvelous workout. We were all at his workout, but beauty is in the eye of the beholder. What you want in a particular player at a particular position is different. From my point of view, he's the whole package and whoever gets him is going to be a good team."
On what he looks for in evaluating a quarterback that me may draft?

"Over the years I have kind of tried to break it down. First of all, their ability to pass the ball, just the physical ability of passing the ball; If they can't do that more often than not I don't even get to step two. Then if they can do that, I want to see their football intelligence, some of the intangibles. Is he coachable? Just a feeling for the young man. Is a bright eyed? Does he exhibit some leadership qualities and things like that. The third thing is getting back more into the physical part of it, his movement ability. I'm not talking about running, necessarily, but his movement in the pocket. The ability maybe to get a first down if you have to, those types of things. If I go much beyond that then all of a sudden, this is me, I found that you are accumulating a lot of information, a lot of facts and figures that kind of muddies the waters just a little bit. That's the first step and the next step is I like to see them in person, up close. You see film, you see how he plays and you see all that kind of stuff. I like to get up close and watch him deliver the ball and watch him do those things.
JEFF IRELAND/GM MIAMI DOLPHINS

His thoughts on the 2010 class of potential picks?

"I won't get in too deeply the strength and weakness of the draft. I do think there's strength in this draft. I think it's really good players. I think it's just a little deeper than I've seen in the past. I think there's some really good skill position players. I think there's some really good big guy positions in this draft. So I think the depth is good."
What is the most important criteria when he's evaluating players?

"I put a lot weight on how the player plays. I put a lot of weight on that. And the combine is helpful to, kind of, it helps me kind of verify what I'm seeing on tape. But to me I put a lot of weight on how the player plays and sometimes at the end of the draft, the bottom of the draft, you're looking at guys that run fast and are big. Height, weight, speed guys. I need to play attention to that for sure. That's where the combine and the pro dates they help you in that way but I'm trying to find good football players. Not guys that run fast and jump high."
On how he approaches the draft?

"I mean yeah. Everybody plays poker differently and there's times to be upfront and there's times to bluff. There's always different ways to play poker in this game of the draft and leading up into the draft."
MICKEY LOOMIS/GM NEW ORLEANS SAINTS

Would you agree that there is a good group from between the 21st and 45th players available where you could trade down and still get a guy you wanted?

"I don't know where those breaks are. I think every year there are breaks between the top five and six and then there are breaks a little farther down in the way you have them graded. I don't know that we're ready to say where those breaks are internally, but if we don't think that there's a player available to us at 32 that we don't think is worthy of that pick, certainly we'll entertain the option of moving down. As you guys know, we've moved up in the past too, so I wouldn't rule that out either."
Do you consider yourselves in a good position because you can draft a player at 32 that you don't necessarily need to come in and start?

"I don't think I'd say it that way. We'd love to bring somebody in here in the draft that could start for us. I think there are positions where guys would have an opportunity to do that. Our goal is to select guys that can start for us, either now or in the future. I don't know how to answer that any other way."
Do you think there are players you could bring in that could start?

"That's our goal absolutely."
You said that the ideal scenario is that the highest-rated guy on your board when you pick is in a position of need. Ideally, what position would that player play?

"The trick to this press conference is to give you guys your answers without giving our competition any information, so I'm going to choose not to answer that one."
Can you give us a general sense of where you'd like to get better in the draft?

"I think that if you look at our team, we've lost some guys on defense and have the potential to lose some guys on defense. Obviously we had the number-one rated offense in the league last year and our defense performed very well, but we can improve in that area. I probably would lean toward the defensive side of the ball, but there's always the but. There's always that guy that jumps up at you that you don't expect to be there. In years past that guy has been Deuce McAllister; he's one example of someone where we had no intention going into the draft of selecting a running back and at 22, Deuce was there staring at us and we said, 'Let's take this guy.' That's the caveat."