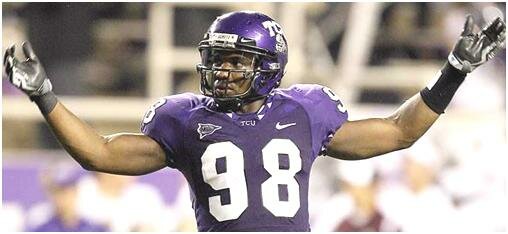 NAME – Jerry Hughes
Position – Outside linebacker/Defensive end.
College – TCU.
Status – Senior, expected to graduate in May with degree in communications.
Size/Weight – 6-2, 255 pounds.
Important numbers – 4.65 seconds in 40-yard dash, 26 reps on bench press, 34.5-inch vertical jump, 9-feet 10-inch broad jump.
Age – 22 in August.
Honors – Two-time consensus All-America '08-'09 … Ted Hendricks Award as nation's best DE '09 … Ronnie Lott Trophy as nation's best defender '09 … First-team All-Mountain West defense '08-'09.
College career – For the last two seasons, TCU had the No. 1 ranked defense in major college football and Hughes was a major reason why. He's a heat-seeking pass rushing missle off the corner, where he had 26.5 sacks in his last 26 games.
Stats of note – 49 games/27 starts… 142 total tackles, 40.5 tackles for loss, 28.5 sacks … 8 forced fumbles, 4 recovered fumbles, 4 passes broken up.
STRENGTHS – Quick, agile, explosive, athletic and smooth … bends his knees and comes off the edge with a great first step … non-stop motor in the Tamba Hali mode … changes direction well … high football IQ with excellent work ethic.
WEAKNESSES – He will move to OLB after playing at TCU with hand on the ground … at times struggles to get off blocks … will have to get stronger and play that way … must improve the use of his hands in keeping blockers off him … needs to develop more pass rush moves.
THE RIGHT 53? – Physically gifted athlete who takes nothing for granted and is well known at TCU for his work ethic. He was a leader of his defense over the last two years. Hughes did all this while maintaining his school work and should graduate next month. He willingly played special teams, even as a senior.
What he said – "I have to say I'm more prepared to play in a 4-3, because I had my hand on the ground for four years in college. But I can do both. I know I'm athletic enough to drop and do what the coaches need me to do.''
End game – There's no question that 3-4 teams look at Hughes and see a player who can immediately get after the quarterback. He must get physically stronger to take on NFL blockers, but he has skills to get after the passer that can't be taught. He will be a late first or early second-round choice.
ON THE CHIEFS LIST? – Yes, yes and yes. Hughes should be a real consideration for the Chiefs with that first pick of the second round, if he's still there.