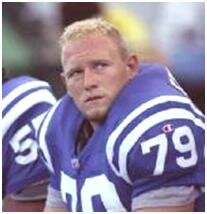 Here's our premise for today:
Who were the worst first-round draft choices in the NFL since the merger in 1970?

The selections are based on their position in the round. In other words, who was the worst 12th player taken in the first round of the NFL Draft from 1970 to 2008? Who was the least productive player taken with the 25th pick?
We will leave out last year's draft since those players have not had the chance to show themselves as busts just yet.
For instance, our pick as the worst No. 1 draft choice in the last 38 drafts is DL Steve Emtman (right), taken by the Colts with the first choice of the 1992 NFL Draft.
When I picked the best first round picks it was very subjective. I'll use a more objective reference for picking the worst first round selections. The No. 1 ability any player can have is availability and that's how we've made our selections: games played. It's not a perfect barometer of their contributions, but they couldn't begin to be productive if they weren't on the field. Injuries, in some cases death and in one case even murder led to departures from the league by first round selections. We violated this rule only once in 32 picks, and that's the first choice.
Again remember that picks No. 27 through 32 have not always been in the first round. It was in 1976 that picks No. 27 and 28 joined the first round, with No. 29 and No. 30 coming in 1995, No. 31 in 1999 and No. 32 in the 2002 Draft. There were various exceptions along the way, like the '95 draft when new teams in Jacksonville and Carolina received a pair of first round selections.
So here we go, the worst first-round picks, spot by spot:
#
Player 
Year 
Team 
On the Pick 
1 
Steve Emtman 
1992 
Indianapolis 
Based strictly on games played, the worst first choice would have been Bo Jackson ('86/Tampa Bay.) Jackson played in only 38 games before a hip injury ended his athletic career. But he produced 3,134 offensive yards and 18 TDs in his short time with the Raiders. Emtman played in 50 games with three teams but only 18 of those came with the Colts. He had eight sacks and an interception. Ki-Jana Carter ('95/Cincinnati) was also considered, playing in just 51 games.
2 
Ryan Leaf 
1998 
San Diego 
It's hard to believe that some people thought Leaf was a better choice in the '98 Draft than Peyton Manning. He played in just 25 games during his NFL career.
3 
Akili Smith 
1999 
Cincinnati 
Smith played in just 22 games before washing out of the NFL. He had five TD passes compared to 13 INTs for the Bengals. 
4 
Art Schlichter 
1982
Baltimore Colts 
It was not physical injury that ended Schlichter's career; it was a mental and emotional malady: gambling. The inability to handle his gambling addiction allowed him to play in just 13 games over three seasons with the Colts.
5 
Mike Junkin
1987 
Cleveland 
Easily the worst defensive draft choice over the last 38 years. Junkin played in just 20 games during his brief NFL career, finishing with five games in KC for the 1989 season with Marty Schottenheimer.
6 
Rich Campbell 
1981 
Green Bay 
Among the early first-round quarterback busts over the years, Campbell qualifies as the biggest. He played in seven games over four seasons with the Packers and couldn't beat out an aging Lynn Dickey and David Whitehurst.
7 
Andre Ware 
1990 
Detroit 
The Lions have had many first round failures over the years, but none bigger than Ware, who played in just 14 games in his brief four-year career in Detroit.
8 
Larry Stegent 
1970 
St. Louis Cardinals 
One of the biggest first-round busts in history, Stegent was a running back out of Texas A&M who played in just seven games for the Cardinals before suffering a knee injury that ended his career. He touched the ball twice, fumbled once and then disappeared.
9 
Kevin Allen 
1985 
Philadelphia 
Off-field problems ended Allen's career with the Eagles after 16 games and one season. He spent time in prison on a sexual assault charge.
10 
Jamar Reynolds 
2001 
Green Bay 
Former Packers GM Ron Wolf was a pretty good judge of talent, but his final first-round pick before retirement was Reynolds and he flopped in a big way, playing just 18 games over three seasons before being released.
11 
Jerry Tagge 
1972 
Green Bay 
In three seasons with the Packers, Tagge played in 17 games and threw three TD passes compared to 17 interceptions. He failed so badly Green Bay brought in the aging John Hadl to handle the QB duties.
12 
Phil Dokes 
1977 
Buffalo 
In two seasons, Dokes played in 25 games for the Bills and impressed few with his productivity. He was cut loose before the '79 season and banged around the NFL and USFL for several more seasons.
13 
David Overstreet 
1981 
Miami 
Overstreet signed in Canada and played two seasons there, before signing with the Dolphins for the 1983 season. He played 14 games for Miami, but died in June of 1984 when the car he was driving swerved off an east Texas highway, ran into gas pumps at a service station and exploded. He died at the scene.
14 
Bernard Williams 
1994 
Philadelphia 
Williams had a solid rookie season with the Eagles, playing left tackle and protecting QB Randall Cunningham. But it was after that '94 season that the Eagles and NFL found out Williams had a marijuana problem. He was suspended and never saw the NFL again, although he played in Canada and the XFL.
15 
Yatil Green 
1997 
Miami 
Coming out of the University of Miami, Green showed promise, but he blew out his ACL in both knees in consecutive training camps and played just eight games in the '99 season, catching 18 passes.
16 
Dan McGwire 
1991 
Seattle 
The brother of baseball's Mark, McGwire played in just 13 games over five seasons with the Seahawks and Dolphins. His only claim to fame is that at 6-8, he is considered the tallest QB in NFL history.
17 
Clyde Duncan 
1984 
St. Louis Cardinals 
It was two seasons, 20 games and Duncan was gone from the Cardinals. He ended up touching the ball 32 times (four catches, 28 kick returns) and had three fumbles.
18 
Steve Schindler 
1977 
Denver 
As a rookie, Schindler went to the Super Bowl with the Broncos and played in 28 games over two seasons. He was cut before the '79 season; spent time in New England where he didn't get on the field and his career was over.
19 
Steve Pisarkiewicz 
1977 
St. Louis Cardinals 
Drafted out of Missouri, Pisarkiewicz spent three years in the league, where he played a total of 10 games for the Cardinals and Packers, threw three TDs, seven INTs and disappeared into football oblivion.
20 
Ken Novak 
1976 
Baltimore Colts 
Two seasons in the middle of the Colts defensive line, a total of 23 games and then Novak was gone, never to return to the playing field.
21 
Gabe Rivera 
1983 
Pittsburgh 
In his rookie season, Rivera was a bit of a disappointment for the Steelers in the six games he played. During the next off-season, Rivera was thrown from his auto in an accident and ended up a paraplegic, never to play again.
22 
Pete Adams 
1973 
Cleveland 
Offensive lineman out of Southern Cal played in 25 games in two seasons with the Browns before he disappeared from the pro football field. 
23 
Tim Anderson 
1971 
San Francisco 
Drafted out of Ohio State, Anderson decided to play in Canada, spending four years there before finally coming back and playing for the 49ers and Bills, for a total of 15 NFL games.
24 
Todd Marinovich 
1991 
Los Angeles Raiders 
He threw three TD passes against the Chiefs in the final game of the 1991 regular season, but came back the next week and threw four INTs in a first-round game in the playoffs. Played in just eight NFL games, tried his hand in Canada and Arena Football, and has multiple arrests on drug charges over the last 15 years.
25 
BillyCannon Jr. 
1984 
Dallas 
The son of the 1959 Heisman Trophy winner came out of Texas A&M and played eight games as a rookie before suffering a neck injury that aggravated a congenital spinal condition. Doctors ended his career. 
26 
Ted Gregory
1988 
Denver 
Easily the biggest first-round draft bust in the last 36 years. Drafted by the Broncos, he was traded before the '88 pre-season was over to New Orleans. He played three games for the Saints, before going to the IR list with a knee injury and he was never seen again.
27 
Rae Carruth 
1997 
Carolina 
Carruth played 22 games over three seasons before he was arrested late in 1999 and charged with conspiracy to commit murder. He remains in a North Carolina prison today after being found guilty of helping to kill the mother of his child.
29 
Andy Katzenmoyer 
1999 
New England 
Katzenmoyer came out of Ohio State as a Butkus-like middle linebacker. But halfway through his second season, he suffered a neck injury and never returned to the playing field.
30 
Andre Johnson 
1996 
Washington 
Then Redskins GM Charlie Casserly actually traded up to get Johnson, who never played a down for Washington. He dressed for one game as a rookie, and then was cut after his second training camp. He spent two years in Detroit and played in a total of four games.
31 
Trezelle
Jenkins 
1995 
Kansas City 
Certainly the most disastrous first-round choice in franchise history, Jenkins played in just nine games. He went from starter, to backup, to waiver wire in the span of three weeks in the 1997 season. He never played again.
32 
Craig Newsome 
1995 
Green Bay 
Of the six players taken at No. 32 in the first round, Newsome ranks as the most disappointing. He played in 53 games over five seasons, but 32 of those games came in his first two years with the Packers. He played just 21 games over his last three seasons.
 PERSONNEL UPDATE FROM THURSDAY

BENGALS – released CB Mike Mickens; RFA LB Brandon Johnson signed tender offer.
CHARGERS – RFA OT Jeromey Clary signed his tender offer.
HIEFS – RFAs QB Brodie Croyle, OT Ryan O'Callaghan, C Rudy Niswanger signed tender offers.
COWBOYS – RFA S Pat Watkins signed tender offer.
EAGLES – re-signed G Max Jean-Gilles.
FALCONS – RFAs, OT Tyson Clabo, G Harvey Dahl, OT Quinn Ojinnaka, RB Jason Snelling signed tender offers.
JETS – RFA RB Leon Washington signed tender offer.
LIONS – RFA C Dylan Gandy signed tender offer; OT Daniel Loper released.
PANTHERS – RFA DT Tank Tyler signed tender offer.
RAIDERS – signed UFA QB Kyle Boller (Rams).
SAINTS – RFA S Usama Young signed tender offer.
SEAHAWKS – RFAs C Chris Spencer, LB David Hawthorne and WR Ben Obomanu signed tender offer.
STEELERS – RFAs TE Matt Spaeth and OT Willie Colon signed tender offers.
TITANS – RFA RB LenDale White signed tender offer.
VIKINGS – released WR Vinny Perretta.